New Moon CaCao Ceremony with Sound Bath

Sunday, 8 March 2020 from 13:00 to 17:00 (GMT)
Event Details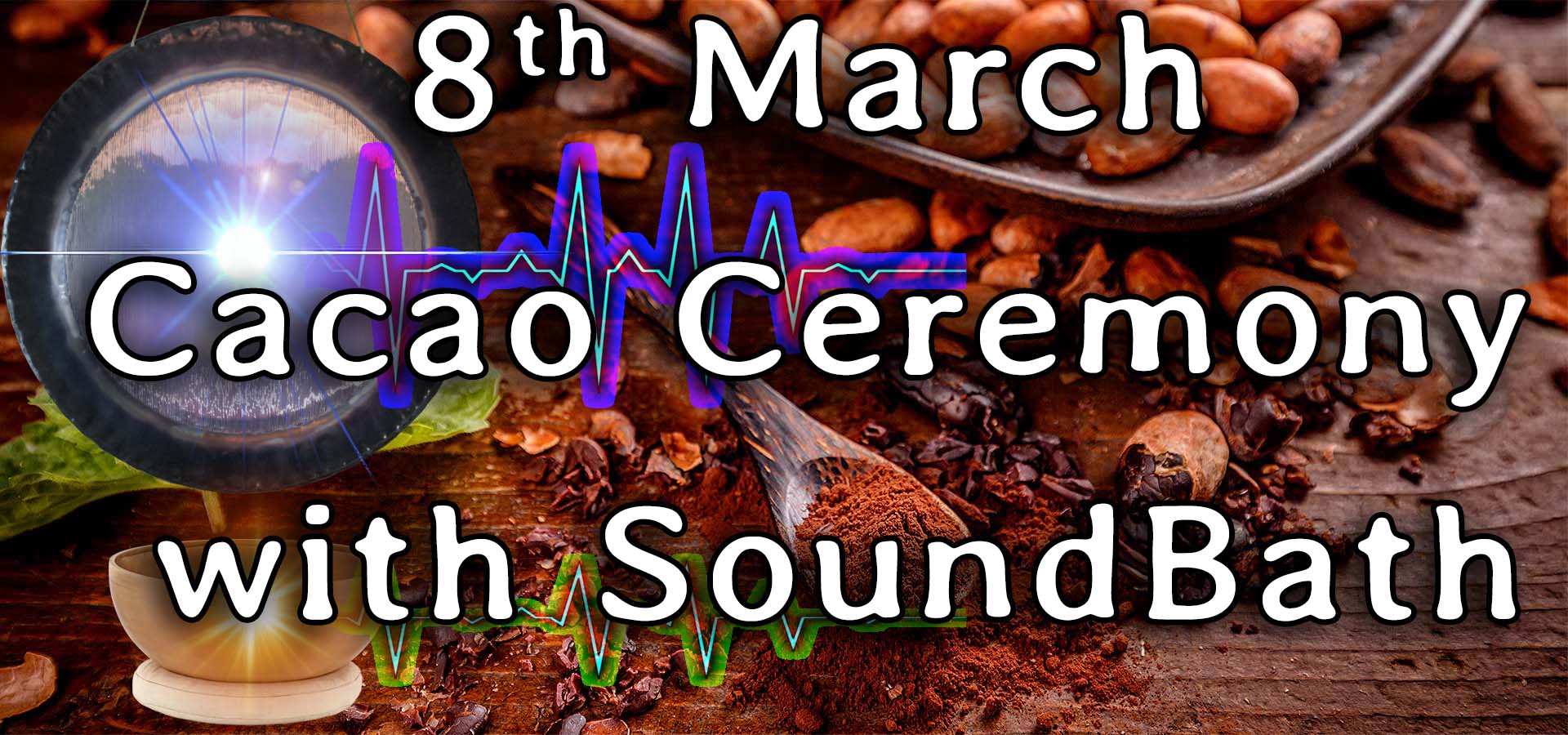 Welcome to New Moon Cacao Ceremony with Sound Bath
On March 8 we will experience a ritual dose of Cacao, along with the healing vibrations of the Sounds of Gongs, Cristal Vibrations of Bowls, as well as our own, unique vibration of voice and the power of our hearts <3<3<3


Because of women's day we have a special offer for couples == €15 discount.


Cacao is a mysterious gift of mother earth, rendered sacred, linked to the earth and the cyclical nature of human life, it both mediates and transcends relationships between humans and the forces that animate the earth.
The Cacao we use is ethically sourced from the Ashaninka Tribe of the Peruvian Amazon.
We'll then journey with the cacao through a combination of breathwork, intention setting, connection practices and a soothing sound bath with a gong, crystal bowls, and vocal channeling.

The Cacao seed offers a subtle yet powerful emotional medicine that helps us connect to the heart <3. When activated through proper ritual, cacao has been known to help move stagnant energy or blocked emotions, inspire creativity, assist in clarity, and help individuals understand their inherent connection to themselves, each other, and the animating spirit of the earth.

EXPERIENCE INCLUDED
Smudging with palo santo to remove negative energies and impurities.

Sharing circle speaking about our intentions.

Grounding using movements; sounds and vibrations.

Chanting to release, tune in and connect

Heart Gong Sound Bath

Free healing movements

Voice healing session

Heart opening exercises
 
BENEFITS:
Relaxing

Feel connected and grounded

Re-balancing

Calming

Emotional release

Feeling of expanding

Feel opened to higher self

Free flow of the energy

Better blood circulation

Energized

Activated and stimulated

Better clarity

Better focus

We will finish workshop with the Gong Bath Marta invite you to join us for a deep immersion into Sacred Sound & Vibration. Using Venus planetary and Symphonic gong, Himalayan singing bowls, drums, rattles and a variety of world instruments we produce evocative soundscapes which encourage deep relaxation and meditation whilst restoring positive energy balance for the body, mind & soul.
Luka will prepare the Cacao, and led us through exercises which will ground and release toxic, stagnant energies. As well as activate and stimulate functions of whole body system. He will try to entertain and find the way to integrate with the workshop members.

CONTRAINDICATIONS FOR THE CACAO CEREMONY:
Because of the variety of cacao, which is significantly more potent, and the amount consumed in the ceremonial dose, there are a couple of contraindications to be aware of:

– Prescription Anti-depressants: Those that use MAO inhibitors to treat depression are contraindicated with chocolate. Check your med's to see if this is the case. These tend to be less common nowadays.
– Serious Heart Conditions: cacao increases heart rate and is a vasodilator, so be careful if you have a serious heart condition
– Pregnant or breastfeeding: Go with a lower dose as cacao is a stimulant.

CONTRAINDICATIONS FOR THE GONG BATH:
– Pregnant (first trimester)
– Tinnitus/Menieres/Epilepsy – Any conditions that could be triggered by sound.
– Metal implants/pins/screws/pacemaker – Can resonate the metal and also change rhythm of the pacemaker.
– Anyone with a serious mental health condition.

PREPARATION REQUIRED FOR THIS EVENT:
Ceremonial dose of the cacao can have an activating and stimulating effects on circulation and body functions.
We can feel relaxed and opened. It's best to experience this without any additional stimulants. So we recommend to avoid caffeine and other stimulants at this day.
We also recommend you to follow a fairly simple and alkaline focused diet the day before, and on the day of the ceremony (including avoiding alcohol).

You'll also need to arrange a quiet, gentle evening for after the event as symptoms of physical and emotional detoxification can arise unique to each individual.
Make sure to drink lots of water after!
We have mats, pillows, chairs, blankets.
So just come with the open heart, light mind and loose clothing.

INVESTMENT:
Limited tickets for €70.
€15 discount for couples (€125 couple)
You are very welcome to join for only cacao ceremony until 3:30pm (2,5h) for €45 per person.
As well as separetly for the gong bath only at 4pm (1h) for €25 per person.

Places are limited so early booking is essential. A deposit of €25 will also be required to secure your place at this magical workshop. You can book either via pay pal using my email health.sound@gmail.com
See you there.
with Love and Light,
Marta and Luka
Save This Event
When & Where

Mindfulness Haven Galway
Terryland House
H91 D2P5 Galway
Ireland


Sunday, 8 March 2020 from 13:00 to 17:00 (GMT)
Add to my calendar
Organiser
http://www.sound-healing.ie/