We're back on the stages with full artillery of Drum & bass, Raggajungle, Liquid & deep dnb + Rooftop loaded with various styles! Lineup TBA
About this event
After 2 years of pandemic Springfield Crew is returning to the club scene fully recharged and ready to do what they do best - rock the place with the finest of the Dnb Music!
Springfield Crew DJs are teaming up with local legends to bring you the best of what we all have been saving for you for those 2 years of no-clubbing.
This new years vibe in one of Dublin's prominent clubs will be special and perhaps very different ;)
FB event link:
https://fb.me/e/2Cui2hxQ9
Full info and Line Up coming soon ...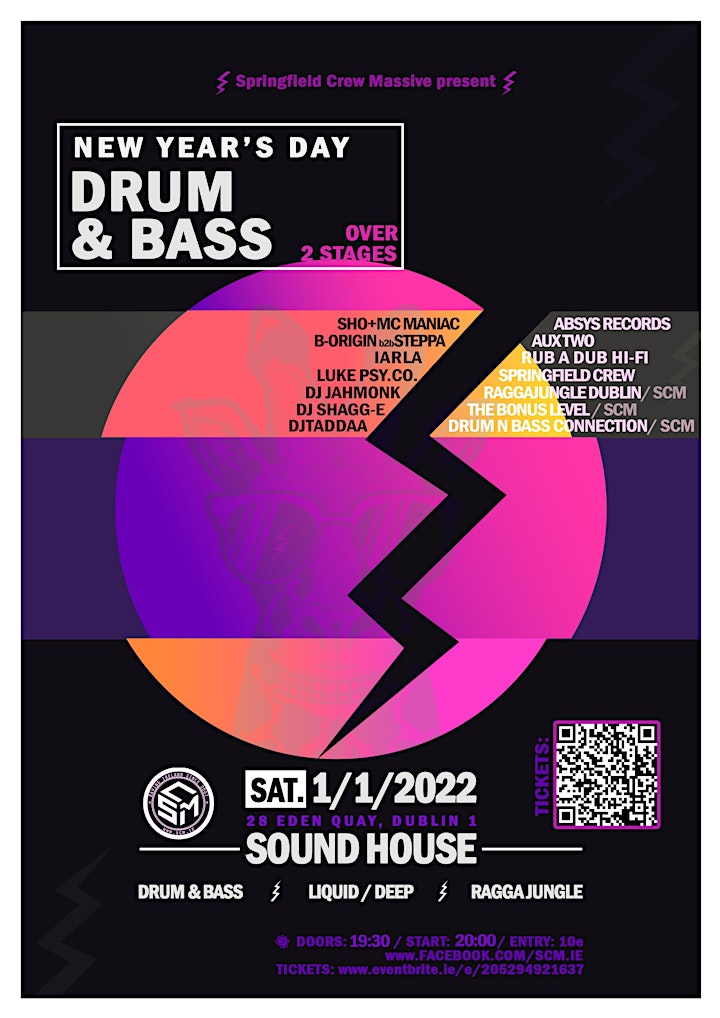 Organiser of New Years Day Drum and Bass ( @ The Sound House ) CANCELLED
Springfield crew massive is a collective of drum and bass artists and enthusiasts from all over the world that have been brought together in Dublin city by their passion for music and quality events, and has been organizing events for a decade in the city.
Originally Springfield crew massive threw events featuring local headliners. As the crowds got bigger, so did they sound systems and venues in order to cather the growing drum and bass scene in Dublin, and to keep there followers coming.
Over years of building crowds and a reputation in the international Drum & Bass scene Founders DJ Luke Psy.Co. and DJ Jula SCM got involved with local artists who were active in the dublin scene and brought more unification to the scene by bringing in DJ Jahmonk, Dj Bastos, MC Kenna, but also promoters and organizers. Springfield Crew Massive is always looking to recruit junglists to join the cause and lend a hand. please get in contact if you're interested by sending a private message to one of our associates.
Now in 2017 Spring field massive crew are colaborating with internationally known headliners from all over the world such as Aphrodite, B complex,BTK, Ed Rush, Black Sun Empire, Audio, B-complex, Rido, Etherwood and many more.This year like every year, Springfield Crew Massive are being asked to perform on international festivals around Europe. Watch this space to get updates on our coming events, videos mix's tracks and much more.