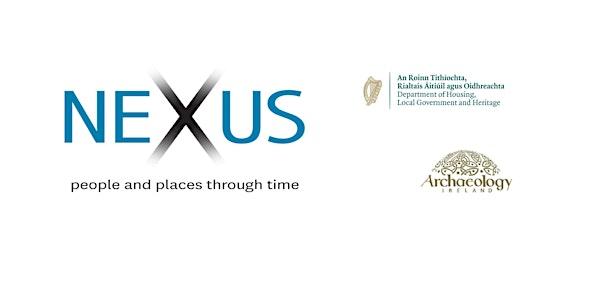 Nexus—people and places through time
This conference is presented by the National Monuments Service and organised by Archaeology Ireland
About this event
Nexus—people and places through time
Humans exist in a shared web of connections based largely on physical actions and experiences like travel, meeting, eating and storytelling. This has been brought more sharply into focus in recent times through the enforced social isolation of lockdowns during the pandemic. As we begin to emerge from this to explore and rediscover the channels of connection that we once took for granted, it is interesting to think about the nature of human connection in the past in its various forms.
Archaeology examines not only the physical infrastructure, tools and by-products of connection, like roadways or traded goods, but also forces us to consider the social imperatives and impacts of those connections—they are, after all, networks of and for people, not things.
One of the attractions of archaeology is the sense of connection with the past that is provided by proximity to relics that have survived—be they ruins or objects—and this attraction is a vital tool in connecting communities with their heritage. How do we best facilitate that connection?
This conference sets out to explore the different types of connections between communities and material culture and monuments, and the role of archaeological heritage in deepening understandings of the material and social connections between the present and the past.
The programme, developed by conference adviser Dr Sharon Greene (Editor of Archaeology Ireland), provides an interdisciplinary gathering of eminent scholars and practitioners to explore connections across four aspects: physical connectors; pathways of discovery; social connection; and connecting the past and the present.
Programme:
16 October 2021. Online
4th annual National Monuments Service archaeology conference
13.00–1900
Session 1: Physical connectors (13:05 – 14.30)
Introduction to conference and speakers, session 1: Dr Sharon Greene, Archaeology Ireland. Chaired by Sharon Greene, Archaeology Ireland
May the road rise to meet you – Irish toghers and the stories they can tell us.
Cathy Moore, Wood artefact specialist, Archaeological and Built Heritage.
Building the Great Northern Railway of Ireland: Identity, People and Places
Siobhan Osgood, IRC funded PhD researcher, Department of History of Art & Architecture, Trinity College Dublin.
Q & A facilitated by Dr Sharon Greene
Session 2: Pathways of discovery (14:35 – 16:00)
Introduction to speakers, session 2: Neil Jackman, Arbarta Heritage
Chaired by Neil Jackman
A well-trodden path: an ancient pathway and associated landscape at Balbriggan, Co. Dublin.
Steven McGlade, Archaeology Plan
A guidebook on the way: encountering archaeology on the Waterford Greenway.Dave Pollock, Archaeologist and illustrator, Archaeografix, Waterford.
Q & A facilitated by Neil Jackman
Session 3: Social connection (16:05 – 17:25)
Introduction to speakers, session 3: Dr Sharon Greene, Archaeology Ireland
Chaired by Sharon Greene,
Boyne to Brodgar: revealing and celebrating the interconnected nature of the Neolithic in Ireland, Britain and the Isle of Man.
Alison Sheridan, Former Principal Archaeological Research Curator in the Department of Scottish History and Archaeology, National Museums Scotland.
Beer and Brewing in Sixteenth-Century Ireland
Susan Flavin, Associate Professor of History in the School of Histories and Humanities, TCD.
Q & A facilitated by Dr Sharon Greene
Session 4: Connecting the past and the present (17:30 – 19:00)
Introduction to speakers, session 4: Neil Jackman, Arbarta Heritage
Chaired by Neil Jackman
Manifesting the Ghosts of Place through Archaeology and Empathy.
April Beisaw, Associate Professor of Anthropology, Vassar College, New York, USA.
Landscapes of difficult heritage - commemorating painful and contested pasts
Gustav Wolentz, Nordic Centre of Heritage Learning and Creativity, Christian-Albrechts-Universität zu Kiel, Germany.
Q & A facilitated by Neil Jackman
Close of conference
Michael MacDonagh, Chief State Archaeologist, National Monuments