About this Event
We are delighted to invite you to a National Forum Seminar on Wednesday November 27th, 2019, 10am to 3pm at Mary Immaculate College, Limerick.
Come meet interesting people, hear about innovative approaches, enjoy a lovely lunch in a supportive collegiate atmosphere and contribute to the ongoing dialogue.
See Seminar Programme Below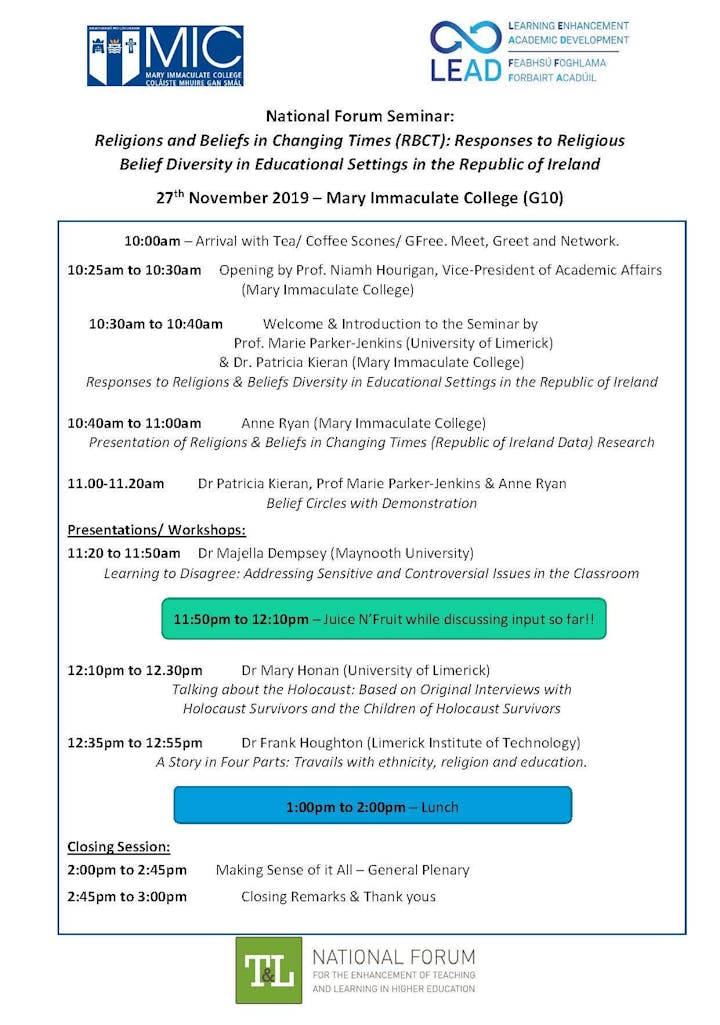 Seminar Learning Outcomes:
Learn how to use innovative methodologies and new approaches, e.g. belief circles, to explore personal beliefs (philosophical, secular, religious, spiritual, financial and political).
Explore how to talk about beliefs in educational spaces in a safe manner so that students are not students are not humiliated, marginalised or excluded by expressing their beliefs.
Engage with the discomfort or reluctance that sometimes arises when addressing difficult questions about a range of beliefs and values, particularly in classrooms.
Inform professional practice and gain insight on how to encourage educators and students to engage in practices of listening and dialogue, without imposing or requiring consensus or agreement.
Reflect on the use of creative, engaging and experiential approaches to pedagogy and education that seek to put the voices of children and young people at the heart of educational practice.
Presenters on the day include: Dr. Majella Dempsey (Maynooth Univeristy), Dr. Mary Honan (University of Limerick), Dr. Frank Houghton (Limerick Institute of Technology), Prof. Marie Parker-Jenkins (University of Limerick), Dr. Patricia Kieran (Mary Immaculate College) and Anne Ryan (Mary Immaculate College).