Sales Have Ended
Registrations are closed
Thank you for signing up - please share with your friends and those who want to see the housing crisis fixed.
Sales Have Ended
Registrations are closed
Thank you for signing up - please share with your friends and those who want to see the housing crisis fixed.
Join us 5.30pm Wednesday 15th Sep when the Dáil reconvenes after the summer to show them a winter of housing discontent is coming!
About this event
A Winter of Housing Discontent is Coming
Join us at Dáil Eireann, Kildare Street, at 5.30pm on Wednesday September 15th
Speakers
Peter McVerry
Louisa Santoro The Mendicity
Eoin Ó Broin, Sinn Féin
Bernard Joyce, Director Irish Traveller Movement
Beth O'Reilly, USI
Representative from CATU, The Tenants Union
Richard Boyd Barrett, People Before Profit
Finbar Geany, Dublin Council of Trade Unions
Paddy Diver, Mica Action Group
Cian O'Callaghan, Soc Dems
On Wednesday 15th September, when the Dáil reconvenes after the summer break, join us at Leinster House to welcome the Government back and mark their cards. A winter of housing discontent and protest is coming!
The social contract is truly broken. We have to organise together to fight back because the Government do not care about us. If you agree, please join us - wear a mask and observe social distancing, thank you.
It has become obvious in the past 18 months of the pandemic that the housing crisis affects people from all walks of life and increasingly so. People's lives are being put on hold because they can't access secure, affordable, or public housing. An entire generation is being treated with contempt by this government. Every piece of legislation passed that favours landlords and vulture funds is another kick in the teeth to those caught at the coal face of this crisis - a crisis made by government policy and made worse by them year after year.
Government policy in the past five years has increasingly favoured vulture funds and corporate landlords over people who need safe and secure homes. The homeless are dying on the streets. Rents are out of control. Vulture funds are buying up homes all over Ireland. Student accommodation costs are spiralling upwards.
We need to stop putting the needs of investors first. We want the Government to invest in communities. Build public housing on public land, lower rents, build suitable Traveller accommodation, give young and old housing security, give disabled accessible housing, and affordability for those who want to buy homes.
Keep up to date with our housing campaigns & protests on social media.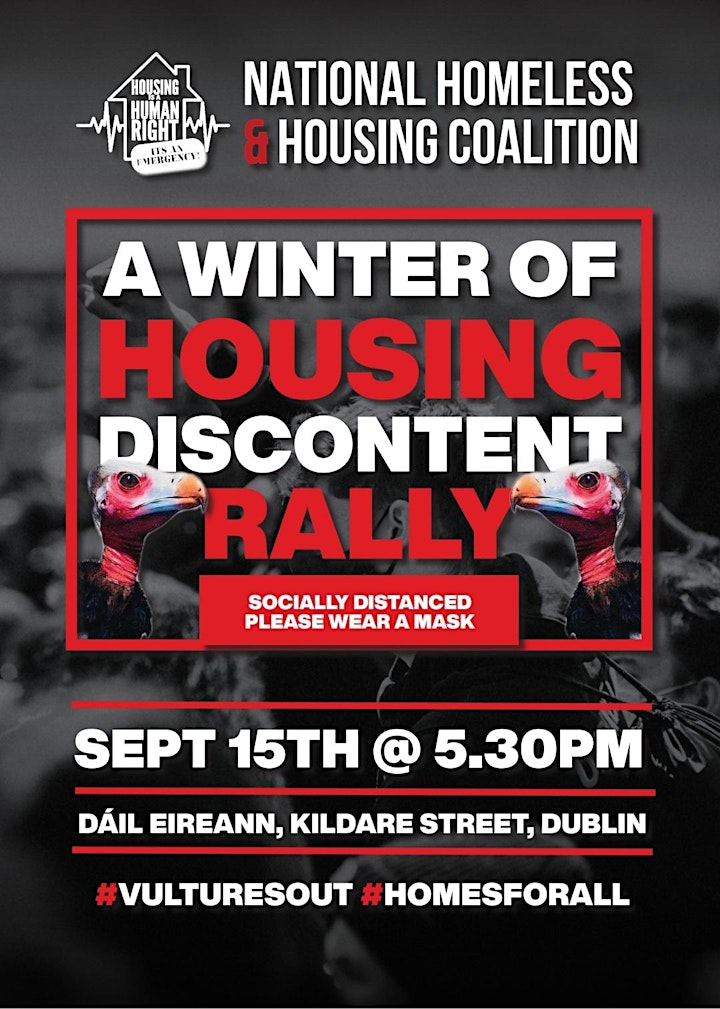 Organiser of NHHC Housing Crisis Rally 15 Sep at Dáil Éireann