One day Flamenco Festival , dancing , singing , drums rhythm , guitar classes , performances and much more.
About this event
We are thrilled to announce this wonderful event where everyone will have the opportunity to enjoy Flamenco in the most pure and traditional way!
The performances and classes are presented by the hands of this group of outstanding performers who have been hand picked especially from Spain to showcase the traditional Flamenco in Dublin. Each one of theses talented performance artists has a long history in developing this important form of cultural expression and have travelled all over the World.
THE LINE-UP
• Luis el Salao - Virtuoso Guitar Player
• Jose Campos Cortes - "Morenito hijo" Singer
• Maria Delgado - Flamenco singer
• Sandra Palomar – Flamenco Dancer
• Juan Ramon Heredia Cortes – Flamenco Dancer
THE TICKETS
The entry for a Night in Andalusia - doors open at 8pm and the Flamenco show and after party – DJ and Sevillanas entertainment etc.
The Early Bird tickets are €20 until the 24th of October
General Addmition: €25
Master Classes: Flamenco guitar playing, dancing and singing
The Full-day ticket: a pass for all the activities, including the evening show for only €55.00
Note: we have moved the dance classes with Sandra Palomar and Ramon to the Saturday 13th in the afternoon (we will update the information here, but another event will be set-up specificly for the dance classes).
Furthermore, there is a raffle with every purchase of any of the activities to win a one week holiday in a magnificent cultural retreat house, a paradise place between Malaga, Granada and Cordoba. The Espiritù Andalus can be enjoyed too, it promotes Andalusian culture in this quaint town and the Flamenco culture in all its possible forms with workshops for flamenco guitar, singing, cajon and also local crafts.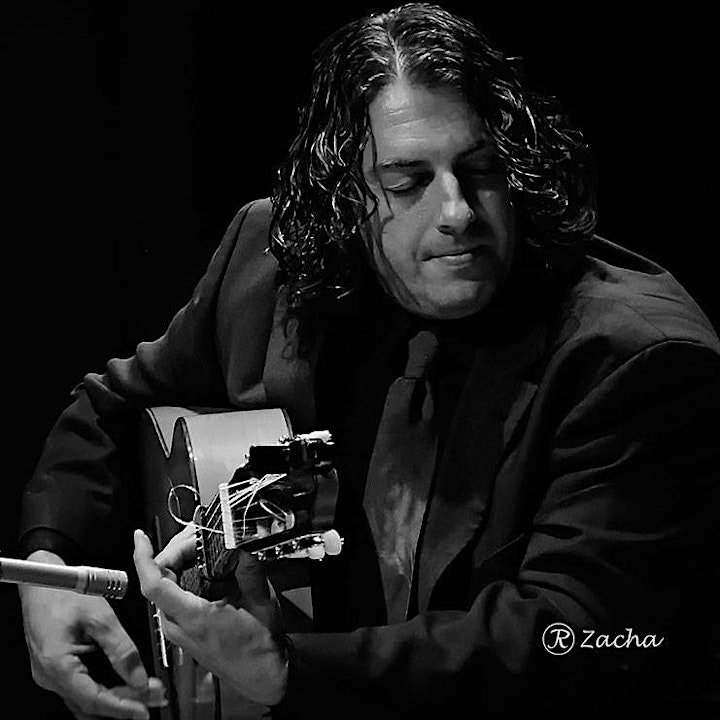 Luis el Salao, a virtuoso guitar player, his skill is one of the most important in the actuality of Flamenco as a "Guitarra de acompañamiento al cante y baile".
His love for the Flamenco guitar started when he was only a child, as he grew up surrounded by the "buen cante" and great artists.
Luis has played for many of the most important singers in the history of Flamenco for more than 30 years, such as: Rancapino chico, Antonio Reyes, Cancanilla de Malaga, El chino de Malaga, Chiquetete, Morenito de Illora ,La Tana, only to name few ... He has also played for important dance figures such as Carmen Ledesma, Carrete, Pepito Vargas, among many others.
Luis has been playing the Flamenco guitar in Spain and in many different countries around the world as one of the most important and outstanding figures of Guitarra de acompa`ñamiento en el Flamenco.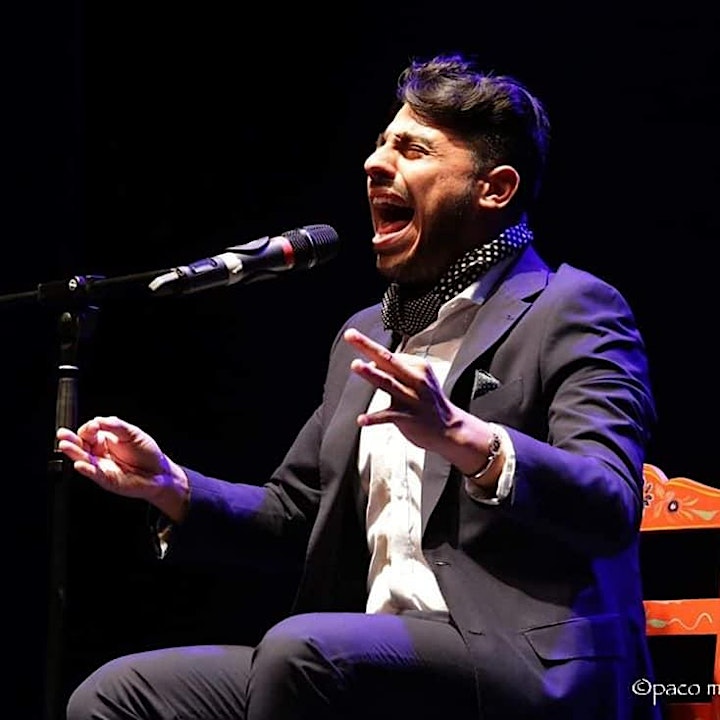 Jose Campos Cortes, "Morenito hijo" is the son of the famous mythic singer Morenito de Illora".
Jose was born in La linea de la Concepcion , Cadiz, and belongs to a family of long tradition of Flamenco artists. He grew up deeply rooted in Flamenco tradition through the generations and draws from his family influence in developing this talent of sensitivity voice.
At a young age he has aquired a wide experience performing on many corners of the world, bringing with him the real taste of Flamenco and deep expression.
Note - since Jose childhood people call him the "old child" because his voice is soulful and is a pleaseure to hear live.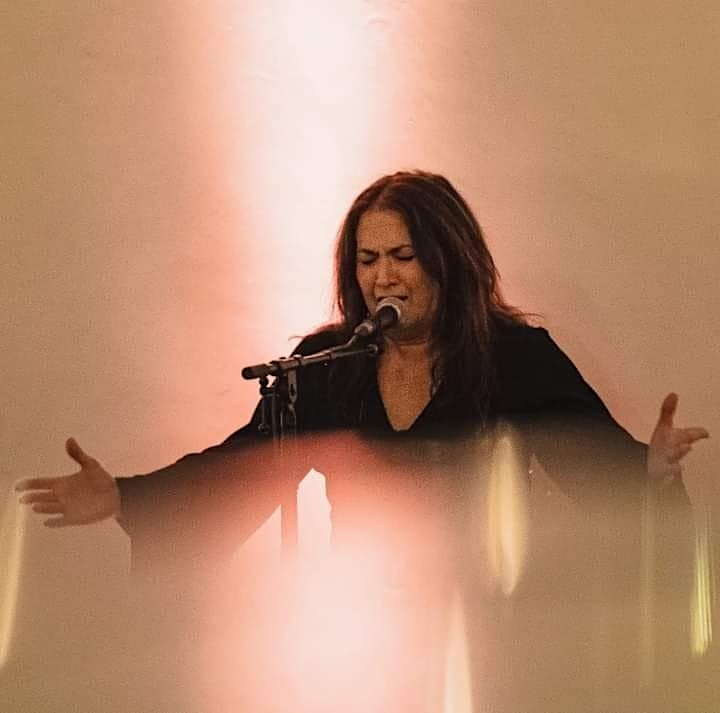 Maria Delgado, from Algeciras , Cadiz she is the soul, the sweetness perfectly mixed with deep power.
Her voice is a pure caress for our minds, but at the same time an assertive mark in our souls that represents the passion, the mystique, the gentleness and all together, Flamenco.
She grew up in a family of artists, her father Pepe Pachon "El Sevillano", her mother Pastora de Algeciras andher sister Pastora de Algeciras. Being surrounded by artists allowed her career to start at very young age and has continuously been working on thousands of projects developing Flamenco culture all over the world and recording her work on many different levels.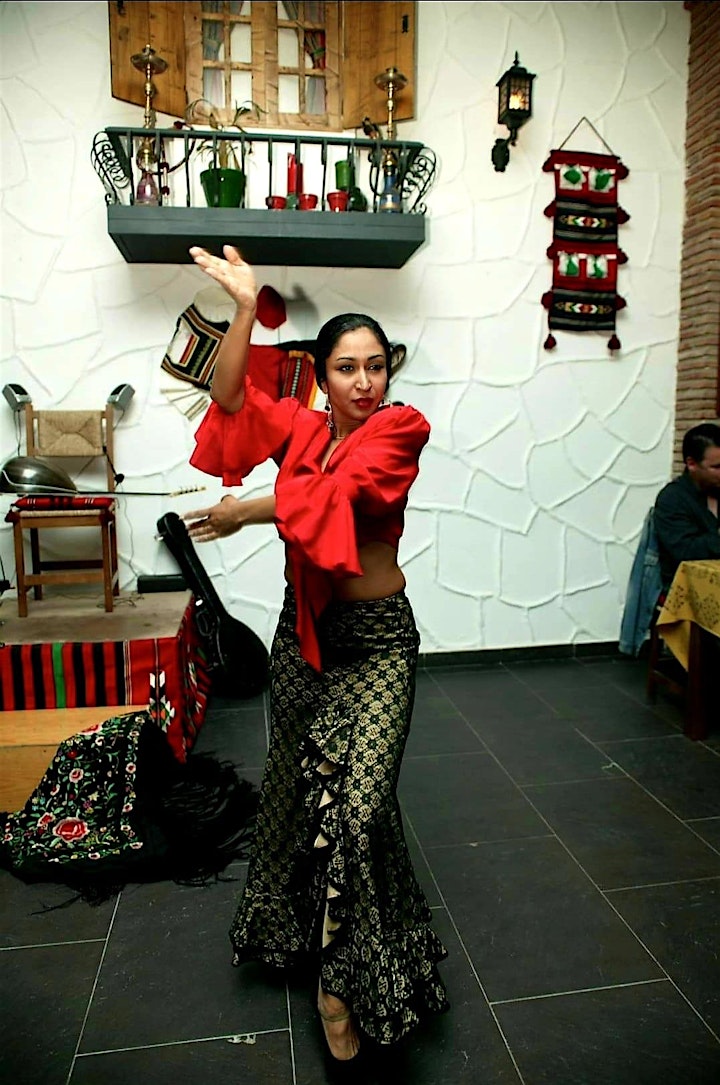 Sandra Palomar, born in Motril, Granada, and grew up in Malaga where she had the opportunity to be surrounded by many artists in her neighbourhood. Several important figures of Flamenco lived in this emblematic city, among many of which had been her tutors, such as, Gloria Vargas, Trinidad Santiago, Pepito Vargas, but to name few.
As a teenager Sandra moved to Madrid to attend oriental dance school "Las Piramides" under the instruction of renowned oriental dance anthropologist Shokri Mohamed. At the same time she kept learning flamenco with important masters from the school Amor de Dios, such as Carmela Greco, La Tati and Merche Esmeralda.
By the age of 18 she started her professional career as a Flamenco dancer with the mythic flamenco ballet company "Jose Greco" and a year later with the "Boston Flamenco Ballet" where she toured all around USA and many countries around America from North to South for over a decade.
For the past 20 years Sandra has been developing Flamenco culture as a dance teacher and choreographer in Spain and many countries all around the world. In the last nine years she has been working for the Cervantes Institute in Dublin, Ireland as a Flamenco dance teacher, Choreographer and leading flamenco dance group, among many other cultural projects advocated to develop Flamenco culture.
Appart fro her artistic career, Sandra is also a physical therapist working in the rehabilitation of sport and dance injuries with elite athletes and dancers.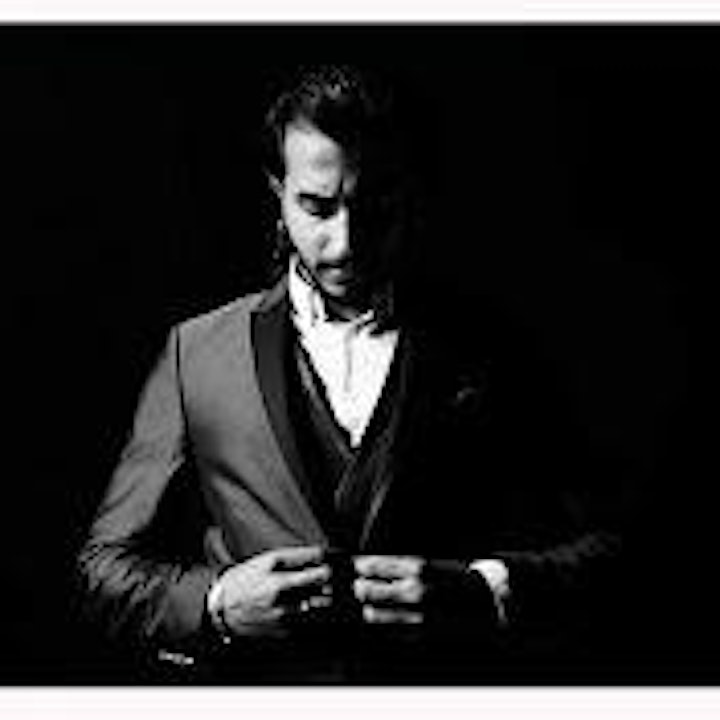 Juan Ramon Heredia Cortes, "Ramon Heredia Bailaor" was born in Seville. He grew up surrounded by a flamenco environment. His father introduced him at the early age of nine into the first notion of Flamenco dance and the main rhythms and meanings.
Between his tutors we can mention influencial figures such as Faruquito, Juan Antonio perez, Jose Maya, Juan de Juan , Sergio Aranda, la Lupi.
His career as a professional flamenco dancer started with "Dereck John Flamenco Dance Company" where he performed and toured different parts of Spain and for over three years around the world.
Juan is a well knownFlamenco dancer and has been involved in various scenarios of the most famous Flamenco festivals in Malaga and Spain. He has an immense power of expression giving audiences a real taste of traditional flamenco dance in its purest of forms with stunning forceful movement of his feet, in perfect precision and style.