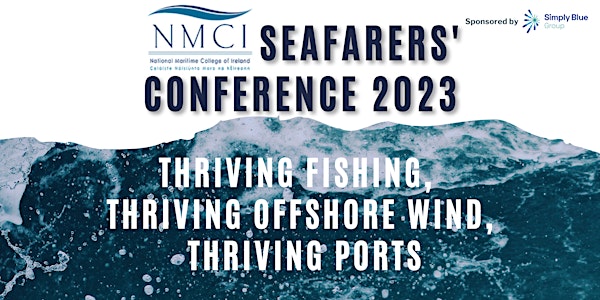 NMCI Seafarers' Conference 2023 (In-Person Attendance)
NMCI Seafarers' Conference: Thriving Fishing, Thriving Offshore Wind, Thriving Ports
Date and time
Thu, 23 Feb 2023 09:00 - 17:00 GMT
Location
Castletroy Park Hotel and Suites Dublin Road Limerick Ireland
About this event
The National Maritime College of Ireland (NMCI) has launched its second annual Seafarers' Conference themed 'Thriving Fishing, Thriving Offshore Wind, Thriving Ports'. The hybrid event will take place on 23rd February 2023 in the Castletroy Park Hotel in Co. Limerick; with a chance for participants to attend either virtually or in-person.
The conference, sponsored by Simply Blue Group, will once again bring together representatives from Ireland's maritime industry, supply chain workforce, and training & education institutions to explore the opportunities that exist to support and grow the fishing and offshore wind industries in Ireland in tandem.
Speakers at the event will include Caroline Bocquel, Director of Corporate Services, BIM, Noel Cunniffe, CEO Wind Energy Ireland, Brian Hogan, Chief Surveyor Marine Survey Office, and Norah Parke, Project Coordinator Killybegs Fishermen's Organisation Ltd. Further speakers will be announced soon.
Among the topics for discussion include: what the fishing industry needs to thrive; the policy regime for renewable energy; implementation of the 'future skills needs report'; the ecosystem impacts of offshore wind farms; and the future for Ireland's fishing ports.