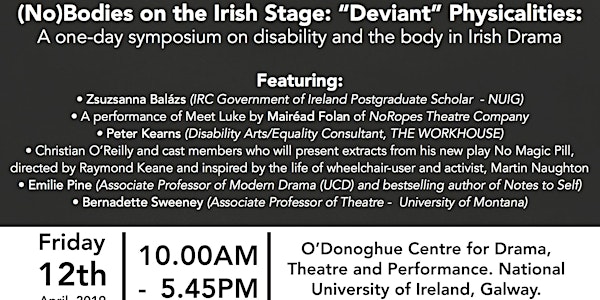 (No)Bodies on the Irish Stage: "Deviant" Physicalities
When and where
Location
O'Donoghue Centre for Drama, Theatre and Performance University Rd University Road H91 T8WR Galway Ireland
Description
NUIG will host a one-day symposium on disability and the body in Irish drama that will bring together academics, theatre practitioners and artists to reflect on physicality in performance, particularly investigating covert and concealed corporealities in twentieth century and contemporary Irish drama and practice. The event is free and open to the public and will take place in the O'Donoghue Centre for Drama, Theatre and Performance at NUI Galway on Friday, 12 April from 10am-6pm.
Featuring live performances and academic papers, participants include; playwright Christian O'Reilly and cast members who will present extracts from a new play inspired by the life of wheelchair-user and activist Martin Naughton and directed by Raymond Keane; Mairéad Folan, Artistic Director of NoRopes Theatre Company, Bernadette Sweeney, author of Performing the Body in Irish Theatre (2008), Emilie Pine, author of Notes to Self (2018) (An Post Irish Book of the Year 2018), Peter Kearns (Disability Arts/Equality Consultant, THE WORKHOUSE), and Zsuzsanna Balázs (IRC Government of Ireland Postgraduate Scholar).
The title of the symposium queries the "ableist" ideology that categorises bodies as normal or abnormal and suggests a re-appropriation of the term "deviance" as a celebration of physical diversity. The symposium seeks to interrogate the conformity of the bodies that we see on the Irish stage which tend not to "deviate" from a normative cultural script. Despite the prolific use of disability as a literary tool in Irish drama, there are few examples in Ireland of theatres sourcing actors with disabilities to play these roles. As well as reflecting on the role of disability in theatrical texts, this symposium seeks to challenge these conventions and to petition for ability-blind casting practices.
This symposium is supported by the Irish Research Council and the School of Drama and Theatre Studies. For more information please contact emma.creedon@nuigalway.ie