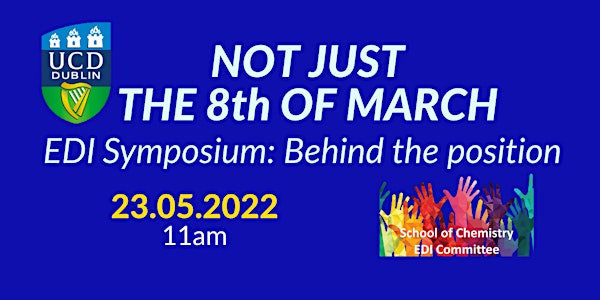 NOT JUST THE 8th OF MARCH - EDI Symposium: Behind the position.
Location
UCD Cinema
UCD Student Centre
Belfield
Ireland
The aim of this event is to learn more about the path of women who occupy different positions in academia and industry.
About this event
With the talks from speakers of different backgrounds and work situations, we want to raise awareness among the scientific community about gender equality, and specifically from the point of view of women. Moreover, we would like to leave a mark for younger female scientists that nowadays the path to higher positions is difficult but not impossible. This event also gives us the opportunity to collect donations to raise money for women's charities in Ireland.
Speakers:
Dr. Silvia Giordani: Full Professor Chair of Nanomaterials and Head of School of Chemical Sciences at Dublin City University.
Dr. Elaine O'Reilly: Associate Professor of Chemical Biology in the School of Chemistry at University College of Dublin.
Dr. Jimmy Muldoon: Senior Technical Officer School of Chemistry at University College of Dublin.
Dr. Cristina Trujillo: Research Fellow in Computational Organic Chemistry in the School of Chemistry at Trinity College Dublin.
Dr. Sarah Hayes: Chief Operating Officer of SSPC, The SFI Centre for Pharmaceuticals University of Limerick
Dr. Constantina Papatriantafyllopoulou: Lecturer in Inorganic Chemistry in the School of Chemistry at National University of Galway.
Dr. Claire McDonnell: Assistant Heads of the School of Chemical & Pharmaceutical Sciences at Technological University Dublin
Dr. Gita Singh: Post-Doctoral Research Fellow in Material Chemistry and Energy Storage Systems at University College of Dublin.