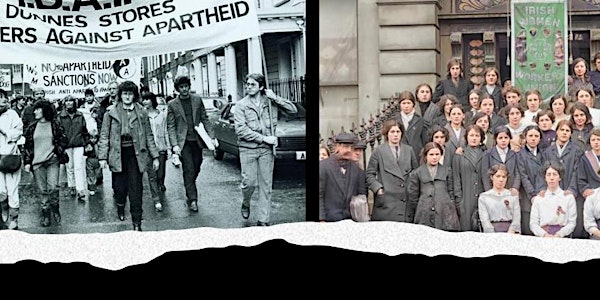 NOTHING TO LOSE BUT OUR CHAINS : Revolutionary trade unions, women workers
Location
Sean O'Casey Theatre
Saint Mary's Road
East Wall
Dublin 3 East Wall
Ireland
Celebrating through history and art , an afternoon of Revolutionary trade unions, women workers and international solidarity.
About this event
The Sarah Lundberg Sumer School 2022 will feature sessions focusing on the story of the Revolutionary Trade Union tradition.
The afternoon will include sessions on the Irish Women Workers Union , the Dunne's Stores anti-apartheid strike (a powerful example of international solidarity by determined Irish workers which captured the worlds attention), the Wobblies' connection to Ireland , Syndicalism in Ireland and the story of a Dublin Docklands strike in the 1800s with International consequences.
There will also be a presentation of a newly commissioned painting to a well known local resident , honouring her and recalling the role played by her family in the revolutionary and trade union movements throughout the 20th century.
Contributors will include
James Curry (Dublin City Council Historian in Residence)
Bernie Furlong (Performer and writer)
Ciara Geraghty (Author and screenwriter )
Karen Gearon (Dunnes Stores Striker , Trade Unionist)
Tara Kearns (local artist )
Hugo McGuinness (local historian)
Mary Muldowney (Dublin City Council Historian in Residence)
Emmet O'Connor (Historian and author).
A light lunch / refreshments will be available
Held in memory of our friend and colleague Sarah who took her own life in 2014, this annual event is FREE and all are welcome.