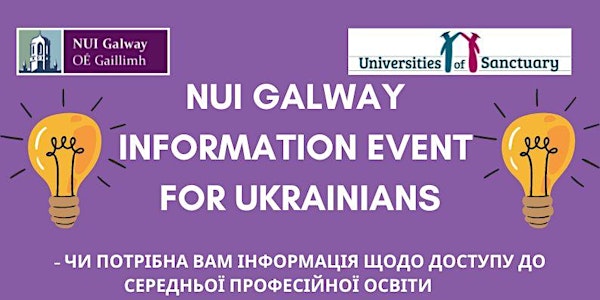 NUI Galway Info Event - Access to Further/Higher Education & Employment
Location
Institute for Lifecourse and Society
NUIG North Campus, Upper Newcastle Road
Newcastle
Galway City
Ireland
Information event for Ukrainians on pathways to further education, higher education and employment.
About this event
- Чи потрібна Вам інформація щодо доступу до середньої професійної освіти ( коледжів) та вищих навчальних закладів (університетів)?
- Ірландський національний університет у місті Голвей проводить день відкритих дверей
19 травня з 10.00 до 15.00. Обід входить до програми заходу.
Доводимо до Вашого відома наступну інформацію:
- доступ до освітніх програм підготовки фахівців освітнього ступеня «Бакалавр» та «Магістр»;
- подання документів до закладів середньої професійної освіти.