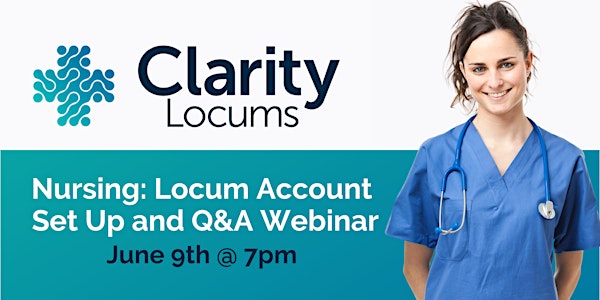 Nursing: Locum Account Set Up and Q&A Webinar
A webinar to help nurses who are interested in starting agency shifts get set up with our clients and get the most out of our app.
About this event
As part of Clarity Locums' ongoing commitment to our locums' professional development, we are delighted to host our first ever webinar to help nurses get set up on the Clarity Locums app, on Thursday 9th June at 7pm.
During the evening, you will learn how to set up your account, organise your Garda vetting, tax, and payroll as an agency nurse, the best tips for working as an agency nurse.
We will also give you a tour of our booking system and show you how to get the best out of each feature.
Following this, we will have a live Q and A session, helping clear up any queries you may have.
We hope to see you there, and feel free to share it with your colleagues.