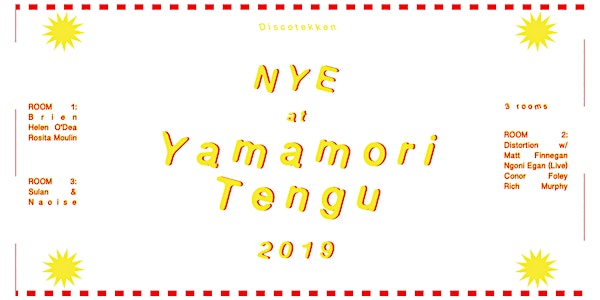 NYE at Yamamori Tengu 2019
Discotekken: ring in the new year at Yamamori Tengu w/ 3 rooms of music..
When and where
Location
Yamamori Tengu 37 Strand Street Great Dublin 1 Dublin 1 Ireland
About this event
Here ye here ye! Roll up roll up!
Discotekken rings in 2019 using the entire Yamamori building (w/ admission from the front entrance facing the Ha'Penny Bridge), this New Years Eve, complete with 3 rooms of totally different music.
You'll be hard pressed not to find somewhere you wanna dance at this full Yamamori venue takeover. Not to mention the friendly staff, nice drinks and high-quality sound-systems in each room.
Check out the full lineup of local dynamite below —
ROOM 1 (Disco, soul, funk, hip hop, house music +++)
Brien (DJ)
Helen O' Dea (DJ)
Rosita Moulin (DJ)
Papa Lou (DJ)
ROOM 2 (Electro, house music, electronic +++)
Distortion w/
Matt Finnegan
Ngoni Egan (Live)
Conor Foley
Rich Murphy
ROOM 3 (Afrobeat, reggae, latin & world party music +++)
Sulan & Naoise (DJs)
aka Na Gamail
Join the Papa Lou WhatsApp Group for hot tips, exclusive nudes & free tickets to things: https://chat.whatsapp.com/JoAT8JOACnx6ZKC4BJD4H5
ath bhliain faoi mhaise
честита нова година
feliz ano novo
bon any nou
新年快乐
šťastný nový rok
godt nytår
head uut aastat
manigong bagong taon
bonne année
ਨਵੇਂ ਸਾਲ ਦੀਆਂ ਵਧਾਈਆਂ
Frohes neues Jahr
boldog új évet
felice anno nuovo
あけまして おめでとう ございます
yeni yılınız kutlu olsun
blwyddyn newydd dda
unyaka omusha omuhle
happy new year!
___________________________________________________