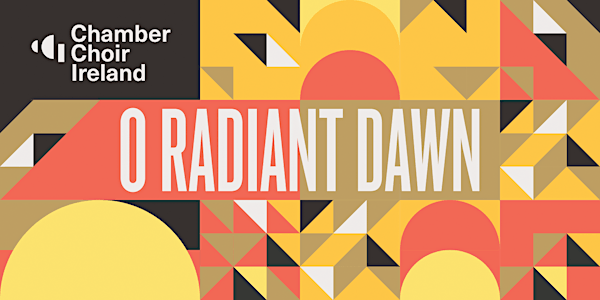 O Radiant Dawn with guest director Eamonn Dougan
A concert of choral works by James MacMillan, his Renaissance inspirations, and his contemporary protégés.
When and where
Location
Pepper Canister Church 7 Mount Street Crescent Dublin 2 Ireland
Refund Policy
Contact the organizer to request a refund.
About this event
Eamonn Dougan of The Sixteen joins Chamber Choir Ireland as guest director for a concert of works by James MacMillan—arguably the foremost living composer of sacred music.
MacMillan has written about his debt to the Renaissance masters on this programme; Byrd, Tallis and Palestrina among them, as well as Rafaela Alleotti, who has become better known in recent times.
Also featured on this programme are two contemporary choral composers, taught and mentored by MacMillan himself: Kim Porter and Eoghan Desmond. Porter is an English composer and singer, and alumna of the University of Manchester where MacMillan taught. As a member of the vocal ensemble The Sixteen, she has given the premiere of several of his major works. Desmond is an Irish composer and a singer with Chamber Choir Ireland, and was one of three composers selected by MacMillan to be mentored by him while writing a new work for the Genesis Foundation.
Chamber Choir Ireland and Eamonn Dougan will also bring O Radiant Dawn to Carlingford Heritage Centre on Sunday 27th November. Read more.
Programme
James MacMillan (Scotland, b.1959)—Sedebit Dominus rex noster
William Byrd (England, 1543-1623)—Christe qui lux es et dies
James MacMillan—Bring us, o Lord God
William Byrd—Miserere mini, Domine
Kim Porter (UK, b.1965)—Pulchra es
Giovanni da Palestrina (Italy, 1525-1594)—Vineam meam
Kim Porter—Pied Beauty (Irish premiere)
Rafaella Alleotti (Italy, 1575-1620)—Vidi Speciosam
James MacMillan—Dominus dabitbenignitatem
Rafaella Alleotti—Surge propera
Eoghan Desmond (b.1989)—Nothing in vain
James MacMillan—O radiant dawn
Thomas Tallis—O nata lux
James MacMillan—Data est mihi