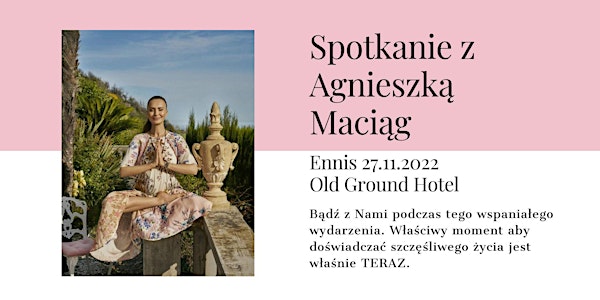 Obfitość życia z Agnieszką Maciąg
Nie ma lepszego czasu jak TERAZ aby stanać do życia o jakim marzysz!
When and where
Location
ENNIS Old Ground Hotel Ennis Ireland
Refund Policy
Refunds up to 7 days before event
About this event
Z radościa zapraszamy Was na magiczne i pełne pozytywnej energii niedzielne spotkanie z Agnieszką Maciąg.
Podczas tego niezwykłego czasu poznamy nowe techniki podnoszenia wibracji oraz pokonywania życiowych wyzwań. Świadomość i odpowiednia perspektywa są niezbędne aby zrozumieć procesy, które zachodzą w Naszym życiu i aby uzdrowić programy, które nam nie slużą.
Świat zewnętrzny jest wyłącznie lustrem Naszego świata wewnętrznego. Zdrowie, relacje, finanse...wszystko bazuje na tym co myślimy i jakie mamy przekonania w tych dziedzinach. Uzdrowienie Naszego życia leży wyłącznie w Naszych rękach. Stań do tego wyzwania, otwórz się na obfitość i radość każdego dnia.