Ócaid le hAlex Hijmans & Victor Bayda chaired by Cathal Póirteir
About this event
This is a pre-recorded ONLINE ONLY event. Signing up means you will receive a link to view the event online. The featured authors will not be in Dingle for a live event.
The broadcast of this event will be on the Big Screen in St James's at the scheduled time.
The Impact of People on Places and Places on People featuring Alex Hijmnas and Victor Bayda Event with Cathal Poirtéir interviewing.
Rugadh Alex Hijmans (1975) san Ísiltír, bhí cónaí air in Éirinn ar feadh dhá bhliain déag, agus le tamall de bhlianta anuas tá sé lonnaithe sa Bhrasaíl. Colúnaí rialta de chuid an tsuímh nuachta Tuairisc.ie é Alex.
Tá sé cinn de leabhair scríofa i nGaeilge aige, idir fhicsean agus neamh-fhicsean. Tá Idir dhá thír, An Tearmann, Splancanna ó shaol eile, Gonta, Aiséirí agus Favela ar fáil ó Chló Iar-Chonnacht. Bronnadh gradaim Oireachtais ar Favela (roinnte) agus ar Gonta. Tá Aiséirí ainmnithe ar liosta '50 Irish Books' de chuid na heagraíochta Contemporary Irish Writing. Léitear Favela, Aiséiríagus Gonta in Ollscoileanna éagsúla in Éirinn. Tá dhá ghearrscéal as an gcnuasach Idir dhá thír ar liosta léitheoireachta an Teastais Shóisearaigh atá dírithe ar chainteoirí líofa Gaeilge.
Foilsíodh gearrscéalta i nGaeilge ó pheann Alex sna hirisí Comhar agus Irish Pages, i mBéarla sna h-irisí Wasafiri agus Crannóg, agus in Ísiltíris in Passionate agus KortVerhaal.
D'aistrigh Alex mórshaothar Mháirtín Uí Chadhain, Cré na Cille, go hÍsiltíris. Tá Onder de zoden ar fáil ón teach foilsitheoireachta Bananafish.
Tá dhá úrscéal do dhéagóirí aistrithe ón Ísiltíris go Gaeilge aige, mar atá Cen chaoi a bhfuil tú? Go maith le Anke Kranendonk agus Maistín le Peter-Jan Rens.
The event was pre-recorded.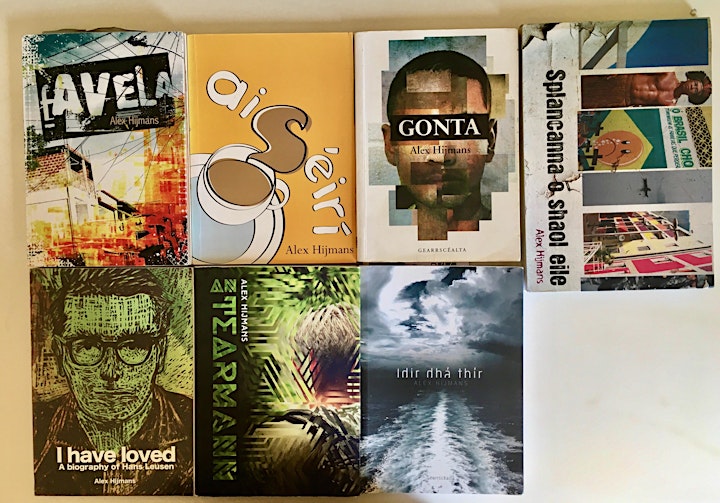 Organiser of Ócaid le hAlex Hijmans & Victor Bayda chaired by Cathal Póirteir ONLINE
The Dingle Literary Festival brings together readers of all interests with writers of local,
national and international standing. The festival inspires readers to read and writers to write.
Events happen, in both Irish and English, across Corca Dhuibhne, an established creative
landscape on the Wild Atlantic Way. The festival includes writer's workshops so emerging
writers can hone their skills and activities aimed at children, the readers and writers of the
future.