Location
West Cork Arts Centre
Uillinn
P81 VW98 Skibbereen
Ireland
'Of Bluebells and Butterflies' is an interactive dance theatre performance for babies and their carers. Sharing of Work in Progress
About this event
Of Bluebells and Butterflies - a sharing of work in progress for a new dance theatre performance for infants by Helga Deasy
Saturday 22 January
1:00pm to 1:30pm
Places are limited, booking on Eventbrite only
Tickets - one adult / one infant (0 to 9 months) €10
Please telephone us on 028 22090 if you wish to bring the infant's sibling/s or another adult.
Uillinn: West Cork Arts Centre is excited to present this interactive dance theatre performance for infants and parents by choreographer and dance artist Helga Deasy, with singer and musician Grace Kiely. Of Bluebells and Butterflies fuses movement, sound, music and set design to create an immersive, multi-sensory, interactive experience. An imaginary, fantastical garden full of wondrous creatures blossoms to life to playfully engage very young children through song, gentle movement, gestures, touch and fingerplay.Supported by a Dance Commission Award (Early Years) from Uillinn: West Cork Arts Centre, the work was created as part of BEAG Early Years Arts Programme for Children from birth to three, with organising partner Graffiti Theatre Company and funding partners: the Arts Council / An Chomhairle Ealaíon, Cork County Council Arts Office, Cork City Council Arts Office and HSE.
Concept, direction, choreography and performance by Helga Deasy
Music written by Helga DeasySound design, music arrangement and performance by Grace Kiely
Of Bluebells and Butterflies is developed under the mentorship of George Hannover, BEAG Early Years Arts Programme Director at Graffiti Theatre Company.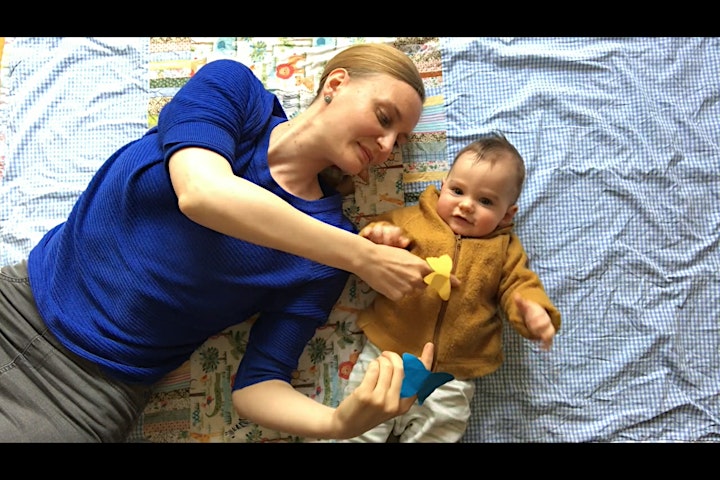 About the Company
Since 1984, Graffiti has been providing a unique brand of excellence in drama and theatre work for children and young people from birth to 18 years, throughout Cork city and county. With a belief in building community through creativity, kindness and the power of imagination, Graffiti creates theatre and quality arts experiences to help children to imagine a better world. BEAG is Graffiti's early years arts programme which offers play-based, multi-sensory and interactive arts experiences for children from birth to three years.
Helga Deasy (Ireland/Germany) is a choreographer, dance artist and teacher. Her work captures the universal significance of personal experience and draws attention to the subtleties that go unnoticed in day-to-day life. Grounded in choreology and somatics, Helga's practice spans choreography, performance and cross-disciplinary collaboration. Helga has received awards from the Arts Council, Cork City Council, Dance Ireland and artsandhealth.ie among others and is currently artist in residence at the Firkin Crane with kind support from Cork City Council.
Socially engaged dance forms a significant part of Helga's practice. Over the past 10 years, Helga has worked extensively in dance and health, most recently as artist in residence with MusicAlive on 'Creative Enquiry – Arts and Older People' / Arts Council Invitation to Collaboration Scheme (2019-2020). She is a facilitator on the Teacher Artist Partnership Programme (Arts in Education Initiative) and works for Graffiti Theatre Company on the early year's programme BEAG.
Helga is Alumni Ambassador for Trinity Laban Conservatoire of Music and Dance, London.
ATTENDANCE GUIDELINES
Do not attend if you or your child feel unwell.
As per government instruction anyone over 13 years old will be asked to produce paper or digital Covid-19 vaccination or Recovery Certificate and proof of identity to be checked on arrival.
Arrive 15 minutes before the event start time to allow for staff to guide you to your seating.
Please follow physical distancing guidelines upon arrival and exit.
Please sanitise your hands upon entry and exit of the building.
All attendees over the age of 13 MUST wear a face covering at all times during arrival, throughout the event and until they have exited the building.
Your details will be held for contact tracing in line with Government guidance.