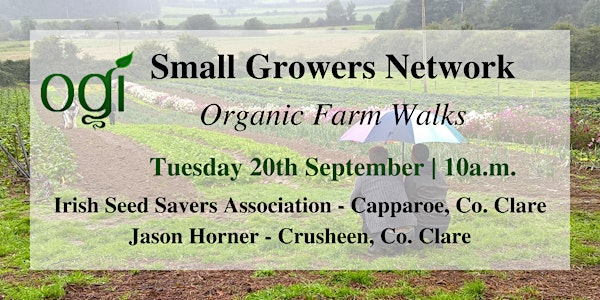 OGI Small Growers Network Farm Walks
Come join us for the next Organic Growers of Ireland's Small Growers Network farm walk event in Co. Clare.
When and where
Location
Irish Seed Savers Association Capparoe V94 V6W0 Scarriff Ireland
About this event
A Food Revolution Starts with Seed
'Around the world, seed diversity is threatened, and yet it is critical for ensuring a secure and resilient food system that serves both people and planet. At a time of climate crisis, there has never been greater urgency to protect and restore global seed diversity, in the hands of farmers, not corporations.' - The Gaia Foundation
Date: Tuesday 20th September 2022
Join the OGI's Small Growers Network for the last farm walk of the season which will focus on growing crops for seed. We will start the day in the gardens at Irish Seed Savers Association, an organisation that have been working relentlessly to protect Ireland's food crop heritage for over 30 years . In the afternoon, Jason Horner, Irish Seed Sovereignty coordinator, original OGI Small Growers Network coordinator, semi retired market gardener and Irish seed producer will give us a tour of his farm, Leen Organics. Jason has been growing organically for markets for over 30 years so has a deep understanding of the opportunities and challenges of combining market gardening and seed saving.
Outline for the Day:
10.00am - Meet at Irish Seed Savers Association (Eircode: V94 V6W0 )
10.15am - Garden walk with Tristan Lienhard and Damien Regan (also an SGN member)
12.30pm - Lunch at ISSA (everyone bring their own or something to share)
1.30pm - Depart for Leen Organics (Eircode: V95W426 ) - 30/40 minute drive
2.15pm - Garden walk with Jason Horner
4.30pm - Depart for Home
This event is open to all members of the OGI's Small Growers Network. If you are not a member of the Small Growers Network and would like to become a member and join this farm walk, please contact the Network's coordinator Kitty at smallgrowersnetwork@gmail.com to register. It is free to become a member of the Small Growers Network.
This farm walk event is free of charge. We just ask that you register first so we have an idea of how many people will attend on the day! We are hoping that each participant will make a €5 donation which will go straight to our farmers as a thank you token for their time. Kitty will collect this on the morning of the event. Thank you!
I advise ye check out these two wonderful projects to whet your appetites. It is going to be a really INSPIRATIONAL and MOTIVATIONAL day!
https://www.seedsovereignty.info/welcoming-jason-horner-of-leen-organics/