Event Information
Location
London Irish Centre
50-52 Camden Square
London
NW1 9XB
United Kingdom
A sharing of new material from Xnthony LTD's new musical 'Oliver Cromwell is Really Very Sorry' for the London-Irish Community.
About this event
We are welcoming members of the Irish community in London to a community share of 'Oliver Cromwell is Really Very Sorry' the new musical from award winning artist Xnthony.
Oliver Cromwell is back, revisiting moments from his time in Ireland through song, historical reenactments and contentious historical revisioning.
With an electrifying blend of high tempo disco, acerbic cabaret and good old musical theatre this is an important opportunity for the creative team to share material with the Irish diaspora in London, creating a space for you to give feedback.
This show deals with painful moments from Ireland's past centred around the actions of Oliver Cromwell. Because of this, we want to make sure we test out contents from the show with our community to ensure the work is made with the acknowledgement and input of our community.
We will show you our songs, text and marketing imagery. You will be asked to engage rigourously with the content.
There will be tea and biscuits.
And mostly it'll be a lot of fun to share parts of our new musical which has been in development since 2019 and is heading for a large-scale premier in September.
This event is open to people who identify as Irish or are of Irish descent regardless of race, gender, age or sexuality.
We have limited tickets available for members of the community.
Written by Xnthony, Sam Curtis Lindsay and ODU with full team to be announced soon. Funded by Arts Council Ireland and Arts Council England.
Time and location:1pm - 4pm at The London Irish Centre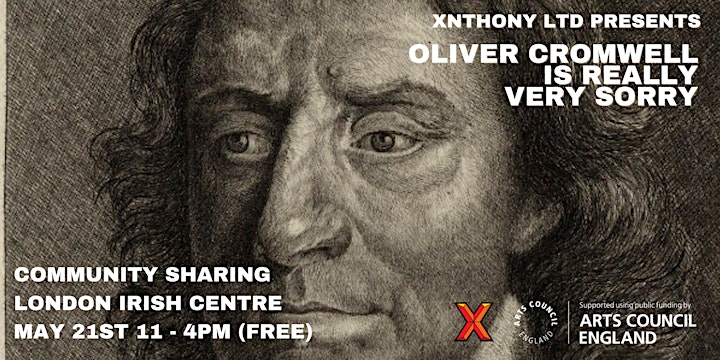 Date and time
Location
London Irish Centre
50-52 Camden Square
London
NW1 9XB
United Kingdom