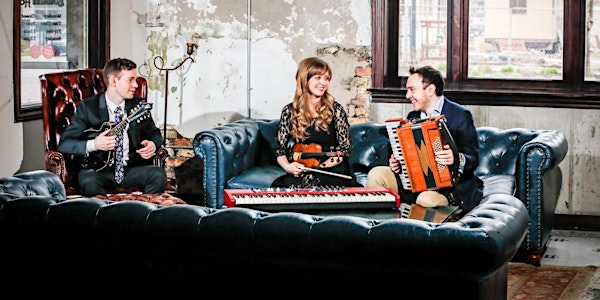 One For The Foxes - "Take a Look Around" debut album launch
One for the foxes are: Dublin's Tadhg Ó Meachair (Goitse), Galway's Dave Curley (SLIDE) and Denver, Colorado's Joanna Hyde (The Hydes).
When and where
Location
The White Horse The White Horse West Village, Ballincollig P31 YA40 Cork Ireland
About this event
ONE FOR THE FOXES
Dave Curley, Tadhg Ó Meachair and Joanna Hyde form an exciting and dynamic transatlantic trio that presents a rousing blend of Irish and American folk music, having already won over audiences on both sides of the ocean. The group is made up of Dublin's Tadhg Ó Meachair (Goitse), Galway's Dave Curley (SLIDE) and Denver, Colorado's Joanna Hyde (The Hydes), and features a mix of Irish and American folk music and song – both traditional and newly-composed – presented in an energetic and engaging manner. Their performances strike a tasteful balance between the stories found in ballads across both sides of the Atlantic and the respective instrumental music traditions of these places. Award-winning instrumentalists each in their own right, Dave, Tadhg & Joanna take a unique twist on the diverse strengths of their individual backgrounds, weaving between traditional melodies, their own compositions, and songs from the broader folk canon. The results are highly personalised and thrilling in their daring and forthright grasp of the material. Through a shared deep-rooted passion for Irish traditional music, this trio highlights the vital role of Irish traditional music as an origin of many American folk musics, and explores how those styles can interact with one another in a manner both eclectic and grounded.
Tadhg Ó Meachair:
A recent graduate of the Irish World Academy at the University of Limerick, Tadhg has established himself as a force in the world of traditional Irish music. An All-Ireland piano title win is among the various awards for piano, piano accordion, and accompaniment that have cemented this fact in the minds of the traditional music community. As well as being a founding member of the multi-award-winning band Goitse, touring extensively across four continents, he has performed on a variety of stages around the world to huge crowds and esteemed audiences; from Ireland's National Concert Hall to Music Crossroads in Zambia and from the Festival Interceltique de Lorient to the RTÉ New Year's Eve Show with rock group The Stunning.
Tadhg has not only made a name for himself in terms of his performing career. In recent years, he has recorded on many albums and worked with singers and musicians alike, including collaborations with legendary singers Aoife Clancy and Seán Ó Sé. He was also chosen by none other than Dónal Lunny to be the pianist in his 'Lorg Lunny' project which was recorded for an eight-episode TV series and culminated in the formation of the band Ciorras.
Tadhg has also taught extensively at festivals across Europe and can teach a variety of classes from piano and piano accordion, to accompaniment classes for a range of accompaniment instruments. Having grown up in an Irish-speaking home, and having studied the Irish language to University level, he has even been known to teach a few Irish or 'Gaelic' classes.
Dave Curley:
Dave Curley is one of Ireland's leading multi-instrumentalists, vocalists and a champion step dancer. Hailing from Co. Galway on the west coast of Ireland, Curley has brought his wealth of talents to the largest of stages in North America and Western Europe. He has performed at the prestigious Ryman auditorium in Nashville, Tennessee, recorded with Grammy award winners Ron Block, Jeff Taylor and Buddy Greene, and toured with Grammy award winners Moya Brennan of Clannad and Ross Holmes of Mumford and Sons. For 10 years, Curley has worked with the award winning traditional super group, SLIDE and also spent 5 successful years with award winning American Roots band RUNA. More recently, Curley has become an integral member to the new Crannua Collective featuring Moya Brennan, John Doyle, Ashley Davis, Mick McCauley, Eamonn and Cormac DeBarra, Colin Farrell, Cathy Jordan and Gawain Matthews, in addition to the formation of One for the Foxes.
Joanna Hyde:
Joanna grew up in a musical family in Denver, CO, studying and performing a variety of styles including classical, bluegrass, Irish, and Cape Breton music, as well as Irish step dancing. She graduated magna cum laude from Colorado College with a BA in Music in 2009, and was recognized with the Music Department's top performance and academic awards. In 2011, Joanna was selected as one of 10 scholars from across the United States by a panel of distinguished arts professors and professionals to receive the Jack Kent Cook Foundation's Graduate Arts Award. With this generous scholarship, she moved to Ireland to pursue three years of studying Irish traditional music as well as teaching at the University of Limerick's Irish World Academy of Music and Dance. Joanna graduated with an MA in Irish Traditional Music Performance in 2014, and currently tours throughout Europe and the USA with a variety of projects, including The Hydes, a duo with her brother, Iain, which was awarded Liveireland's "New Group of the Year" in 2017, as well as One for the Foxes.
_____________________
Strictly Over 19s. Tickets are non-refundable (except if event is cancelled). Right of admission reserved.