Curious about stop-motion animation? Join us for an Online Animation Camp for Kids hosted by Julie Forrester and Crawford Art Gallery!
About this event
With the help of Zoom and an app called Stop Motion Studio (available for iOS and Android), artist-facilitator Julie Forrester will guide us day-by-day for a week-long camp filled with the magic of stop-motion animation! The schedule will also provide time to experiment and create amazing movies using our smartphones or tablets – and all in our own homes!
Places on this Animation Camp are limited and will be offered on a first-come, first-served basis.
Date: Monday 09 – Friday 13 August 2021 inclusive
Daily Camp Schedule:
10.30am-12 noon: Zoom Demonstrations and Instructions led by Julie Forrester
12 noon-2pm: Lunch Break/Time for Individual Experimenting
2pm-4pm: Scheduled 20-minute tutorial slots starting from 2pm in smaller groups with Julie
Price: €50 per place. If you have more than one child in your household wishing to attend the camp, please book just one place per household and contact Crawford Art Gallery in advance to let us know how many children are taking part by emailing Emma at emmaklemencic@crawfordartgallery.ie
Suitability: Most suitable for children aged 7 to 12 years old.
General Materials/Equipment/Set-Up Required:
Stop Motion Studio Pro App (€5.99 approx.) to be installed on a smartphone or tablet in advance of the Animation Camp (a free version is also available but the Features version is recommended to be able to access a full range of features). See image below for the recommended version of the app available for purchase for iPhones in the Apple App Store. Android equivalent also available.
A clear desk or table top for working on with shelf above it to point a camera down to flat surface of table top. You will have to improvise a camera stand if this is not possible! (e.g. 2 chairs and rods to balance phone/tablet pointing down to flat floor). A step by step demo on how to set up the animation space will be forwarded to all participants a few weeks before the camp starts.
Some extra space nearby for keeping props and characters to hand.
2 chopsticks
Weights (e.g. books) to hold the chopsticks in place
Drawing board/chopping board/piece of timber (60 x 45 cm approx.)
Props, blocks or books for elevating platform closer to camera if necessary
NOTICE in advance the light and direction of the light: is it natural light or electric? This will help to minimise shadows.
Children participating in the Animation Camp will be required to have an adult's supervision at all times during these Zoom sessions in order to participate.
Demonstrations on how to use the Stop Motion Studio App will be given using an Apple iPhone. Participants with Android/other kinds of devices will be required to find the equivalent functions and features on their own devices.
More detailed materials lists will be provided for participants closer to our start date of the Camp.
Artist-facilitator Julie Forrester and an additional support moderator from the Learn and Explore team at Crawford Art Gallery will attend each Zoom Animation Camp session. The sessions will be recorded (but not used for promotional purposes).
Neither Julie nor the support moderator will be able to solve technical problems during the Camp, so please ensure that your devices and the app are in good working order in advance of the Camp.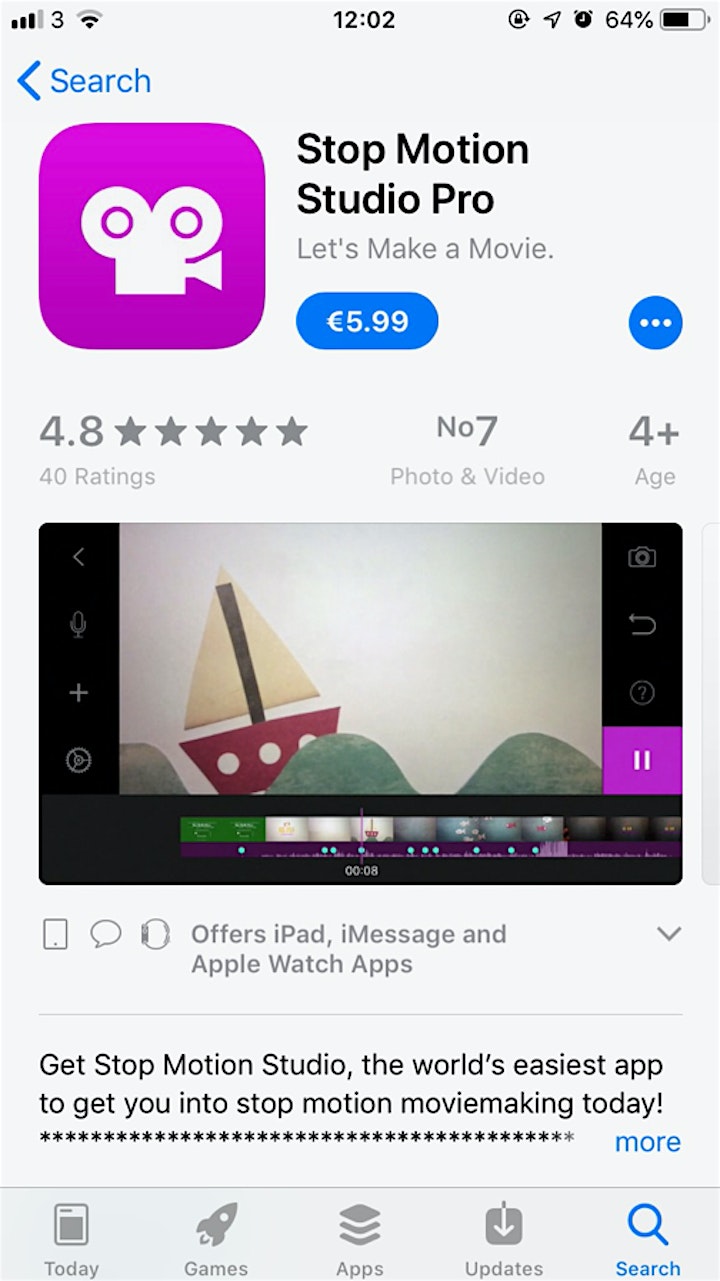 Organiser of Online Animation Camp for Kids 2021
General Opening Hours
**Opening Hours may be affected by Government Public Health Guidelines in response to Covid-19. Please check our website and social media channels for up-to-date information.**

Monday–Saturday 10am–5pm (late opening Thursdays until 8.00pm)

Sundays and Bank Holidays  11am-4pm
The Gallery is closed on Christmas Day and Good Friday.
* Please note that the 2nd Floor closes at 4.45pm daily.
Crawford Art Gallery is a National Cultural Institution and regional art museum for Munster, dedicated to the visual arts, both historic and contemporary. The permanent collection comprises over 3,000 works, ranging from eighteenth century Irish and European painting and sculpture, through to contemporary video installations. At the heart of the collection is a collection of Greek and Roman sculpture casts, brought to Cork in 1818 from the Vatican Museum in Rome. 

Through its temporary exhibitions, publications and education programmes, the Crawford Art Gallery is committed to fostering recognition, critical assessment, and acknowledgement of historical and contemporary Irish and international art practice. Located in the heart of Cork city, the gallery is a critical part of Ireland's cultural and tourism infrastructure, welcoming almost 200,000 visitors a year. Admission to the Gallery and exhibitions is free.