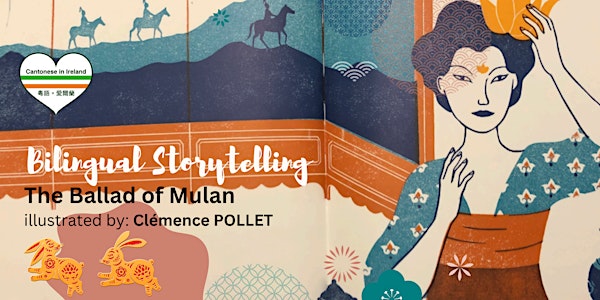 Online Bilingual Story in Cantonese & English: The Ballad of Mulan
Online Bilingual Story in Cantonese & English: The Ballad of Mulan
Refund Policy
Contact the organiser to request a refund.
About this event
"A male rabbit kicks off to the north
And a female rabbit, doe-eyed
But think of when both rabbits are running closely along the ground
[So] how could I possibly be distinguished male or female?"
The Ballad of Mulan translated by Steven C. Poling
A classic story beautifully illustrated by Clémence Polletto, will be shared with you in this year of Rabbit.
We will then learn to draw simple bunnies and sing some Lunar New Year songs in Cantonese.
******
雄兔腳撲朔,雌兔眼迷離
兩兔傍地走, 安能辨我是雌雄?
《木蘭辭》
今年農曆兔年,我哋會同小朋友分享呢個經典故事,故事書由台灣童書作者林世仁重寫,並由法國插畫師配上精美圖畫。
我哋仲會一齊畫啲簡單嘅兔仔,同埋一齊用廣東話唱農曆賀歲歌。