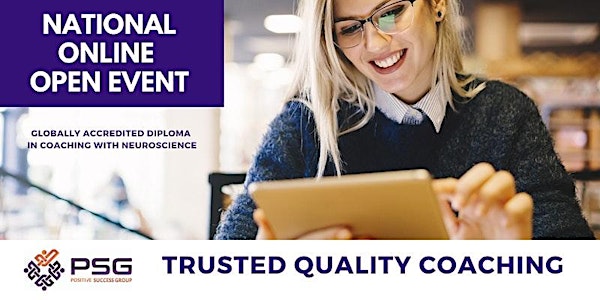 ONLINE - Diploma in Coaching with Neuroscience - FREE Event
This is an opportunity to find out more about the benefits of learning coaching skills with a professional qualification from PSG
About this event
You are very welcome to attend our next Open Event.
This is an opportunity to find out more about the benefits of learning coaching skills with a professional qualification from Positive Success Group (PSG). Find out more about the Practitioner and Advanced Diplomas in Coaching with Neuroscience, about coaching and about us.
Next courses starting February. Dates coming soon - before the end of December
"Even if you never had any intention of becoming a PROFESSIONAL coach, still do this course. The learnings can be applied to every aspect of your life and help you to create more MEANINGFUL relationships and a HAPPIER you. I would highly recommend it. "
Paula. PSG Student
"Go for it – it's a GREAT experience and will help you to GROW as a person and open many doors into the future both personally and professionally. One of the BEST things I have ever done for sure. "
John Phelan. PSG Student
Who should attend?
If you want any or all of these then this course may be just what you're looking for…
To learn practitioner level coaching skills
To become a coach
Significant personal development
Work that is fulfilling and rewarding
To help others
To help yourself
To find something you have a passion for
A professional coaching qualification
A nationally and internationally recognised qualification
Experiential learning
Real-world case studies
The latest tools and techniques
Our experience of running the course since 2003
Comprehensive support
An Insight into the Diploma in Coaching with Neuroscience - For more about the course and to hear what the students have to say.
More Testimonials
The content covered ENABLED our learning – the course was broken down nicely into MANAGEABLE and reasonable projects and students gained CONFIDENCE in coaching skills with each weekend session.
D. Karen Willis.
Taking part in this course and with the EXCELLENT facilitators, I have learned so much. It ENTHUSED me further, to push myself forward even more. It gave me such a POSITIVE outlook in what I can do professionally and personally. It has been a FABULOUS way to learn how to live BETTER.
Celine
Attend if you love people or want to help you UNDERSTAND yourself and people more and its very likely that you will make a positive DIFFERENCE and continue to do so if you KEEP UP the learning.
David