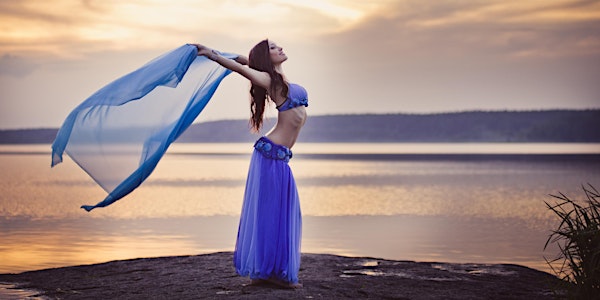 Multiple dates
ONLINE | Egyptian Bellydance | Intermediate level (From September 2021)
Reconnect with your inner goddess, love your body and continue to develop your belly dancer skills from the comfort of your home!
When and where
Date and time
Tue, 7 Sep 2021 11:00 - Tue, 21 Dec 2021 11:50 PDT
Refund Policy
Contact the organiser to request a refund.
About this event
September 2021
Intermediate Level
ONLINE | Fridays 7-7.50pm (Ireland & UK time)
Reconnect with your inner goddess, love your body and continue to develop your belly dancer skills from the comfort of your home!
ALL ABOUT THE BITS - This summer course is all about feeling the music (really feeling it), learning new combos and polishing technique.
ALL ABOUT SUPPORT - I believe in personalised guidance and support. Even in online classes. That's why I only work with small groups. I focus on each of my students providing feedback every step of the way.
What next? Book your spot!!!!
***ABIERTAS PARA HABLANTES DE CASTELLANO E PARA FALANTES DA LINGUA PORTUGUESA***
If you have any questions or want to have a chat please feel free to message me: latifa.danceschool@gmail.com
ABOUT EGYPTIAN BELLYDANCE CLASSES
What's Egyptian bellydance?
Bellydance is a spiritual connection between the mind and body to achieve a sense of holistic well being. It celebrates the feminine soul and joy of womanhood.The focus of the Egyptian style is on true body isolation and personal expression.
Why belly dancing?
Learning to belly dance is like teaching your body a new language. It inspires joy, confidence, and helps you to feel 'at home' in your body and yourself. Belly dancing is about exploring your spiritual (and physical!) inner self. You'll discover muscles where you thought you didn't have any, as well as the capacity of enjoying and expressing yourself.
Beyond being empowering and fun, belly dancing has many health benefits. It is a very low-impact exercise which makes it suitable for women of any age. One of the best health benefits is improved posture, strengthening of back muscles, and body toning.
That you probably now. But there's more!
It has also been proven that belly dancing aids in digestion, increases balance, increases circulation, helps relieve stress, tightens the vaginal muscles, prepares the body for pregnancy/childbirth, and helps regulate menstrual problems and relief menopause symptoms.
Is this course for me?
If you have some experience in bellydance style these classes are exactly for you!
What are the classes like?
In these weekly classes we work on a combination of agility, fluidity, grace, creativity and physical strength, as well as trained technique & body isolation. These 50 minute classes include: a warm up, strength and balance exercises, technique, dance & improvisation, and cool down.
We connect via Zoom platform - Details will follow after you book a ticket!
See you online!
Latifa/Jenni
** LIABILITY WAIVER **
By purchasing tickets and participating in said activities I am voluntarily agreeing to participate and I hereby agree to expressly assume and accept any and all risks of injury, physical harm. I acknowledge and represent that I am physically sound and I do not suffer from any illness, impairment, disease or other condition that would prevent me from participating in the class, performing any exercises.
About the organiser
Jenni Guevara (Latifa) is a qualified bellydance instructor based in Dublin. She has ten years of experience as a teacher and performer in Barcelona, Buenos Aires, and London. She dances and teaches Egyptian bellydance, which focuses on body isolation, and on the expression of the dancer inner self.