ONLINE Free Google Design Sprint while solving REAL issues

Monday, 24 December 2018 from 18:00 to 20:00 (GMT)
Event Details
Learn a critical skill for free while solving a real problem for non-profits.
Imagine if you could learn a critical skill in your job while working to solve a real problem? A problem, that if solved, would scale impact for a non-profit or community and help reach the UN Sustainable Development Goals.
Brought to you by one of the largest Google Design Sprint communities in the world - The Ladder
"The ladder helped me learn, understand and practice design sprints. Facilitating sprints made me a better planner, a confident speaker and primarily improved my time management skills. I am confident enough to drive a sprint for any organisation to help solve their sprint challenges. " Siddarth Nair 
 This is a virtual sprint and conducted online via videoconference
Join the largest and fastes growing Design Sprint training group in Europe and the biggest 'Google Design Sprint' Meetup in the world (see what people say below)
Join our meet-up every online every Monday.
* Small groups (max 10) work on one problem each lead by one faciltiator
* Free training for Sprint Participants
* Low cost training for Sprint Community facilitator Level 1. (includes 6hrs mentoring in small groups + online course)
You MUST have a ticket to join.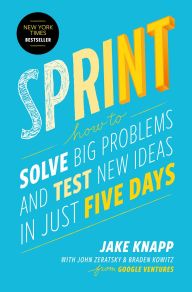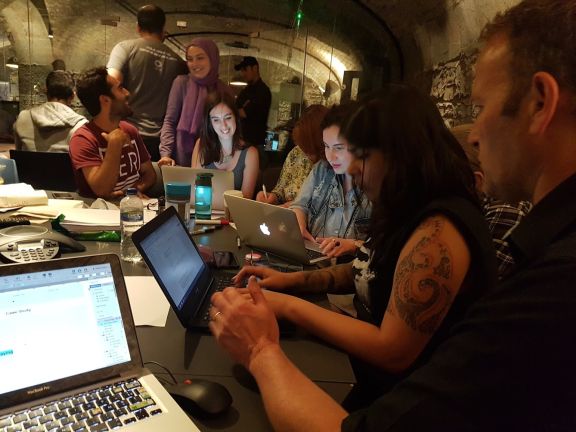 The outcome is that you will be a Design Sprint Practitioner, having solved a REAL problem through practice. You will be ready to try your own idea with a sprint as well as understanding the issues that face charities, communities and non-profits in your locality.
Interested in facilitating sprints?  We are the only organisation  who provide training on real sprints with real organisations from day one, with dedicated mentors.  This is offerred to a very limited number of participants each Sprint Cycle.  

What you get:
* Free CDST Training to be certification-ready
* The knowledge that you have helped a non-profit, community directly or indirectly
* Pre-requisites completed for CDSF - certified professional facilitator.
* Community Sprint Facilitator Level 1 for those learning facilitation (leads to professional facilitator)


// Who should attend
Anyone interested in innovation, process (or teaching it), designers, product managers, product owners, marketers, developers, social entrepreneurs can leverage this methodology to drive meaningful change. Founders, team leads, product managers, marketers, engineers, designers, non-profits and .gov folks can all benefit. No prior experience is necessary.
// Agenda
Each evening goes through a specific format that is easy to join. Each project team will have a facilitator and a nonprofit organisation to work on for the next 6 weeks. You will be assigned a team based on your preferences stated.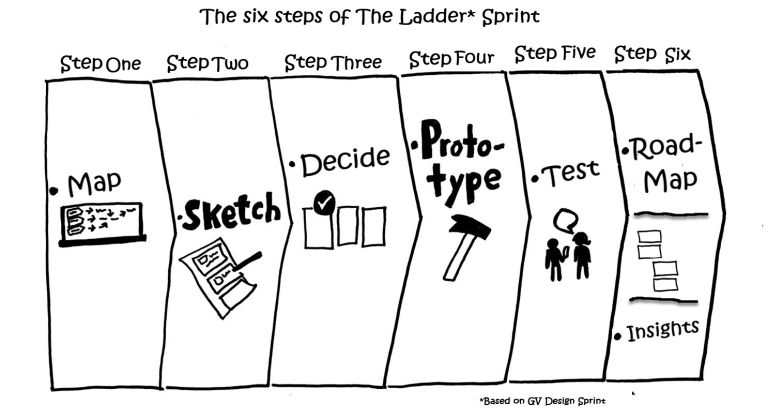 // What to bring
Pen, notebook

// What if I can't attend?
The Ladder provides custom training and facilitates training for corporations and enterprises. Get in touch.
We run paid Design Sprints for start-ups and businesses. Get in touch.

//Rules
This is a free workshop for participant training (facilitator training is charged) bringing like-minded makers and thinkers together to collaborate on learning how to innovate and build things that matter. 1) Everyone is welcome and everyone has a role. 2) We start on time so try and arrive on time.

// Our Facilitators

Colm Byrne
Colm Byrne is product manager and owner of the digital agency Flout.IO . He has created his own start-ups and helped Apple, JP Morgan, The AA, 118, Paddy Power Betfair and the guys who invented the hula hoop - build ground-breaking products.
Ruta Danyte
Ruta Danyte is an interdisciplinary communicator. She blends together creativity, technology, entrepreneurship, and communities. Her projects explore human development in the idea age. Connect with Ruta at https://ruta.io
Francesco Alioso
Francesco is design-obsessed with an eye for detail and beauty developed from a foundation in modern Italian furniture design and a childhood spent hacking toys and building machines. As a professional web designer with over 15 years experience, he now applies his cross-disciplinary skills to serve new frontiers in social causes. www.francescoaloisio.com
Mardea Gartree
Project manager and board member of a non-profit organisation in her community in Laois. Mardea understands the challenges and issues affecting non-profits in local communities. https://www.linkedin.com/in/mardea-g-09647b38
Virginia Raoul
As a UX researcher, she believes putting users in the center is the design is key to a successful solution and promotes collective creativity to help people and change the society positively www.linkedin.com/in/virginiaraoul
Kevin O'Connell
Kevin has over twenty-five years' experience working in Industrial Design, model making and prototyping, e-learning and web technologies. Has recently become immersed in the black art of user experience - making it easier for people to interact with technology. https://www.linkedin.com/in/kevin-j-o-connell

What People Say
"The ladder helped me learn, understand and practice design sprints. Facilitating sprints made me a better planner, a confident speaker and primarily improved my time management skills. I am confident enough to drive a sprint for any organisation to help solve their sprint challenges. " Siddarth Nair 
" Being able to identify critical junctions in an organisation and extracting tangible solutions by a team of industry experts in just 6 steps are revolutionary. The Ladder provides a real life platform to test the process of Design Sprint with actual partners, physical prototypes and real end users. There is no better learning than solving real problems with real people."  Jacques Vermaak
"My background is computer programming and I thought it would be a good experience to learn about product design, to be on the "other side". I decided to join The Ladder four months ago because of their cutting edge methods. It has been a great and invaluable experience so far and  my learning has passed the barrier of the sprint design as I have learned facilitation skills, which I will now use to train newcomers."  Higor Kern
"My journey with the Ladder Community has provided incredible learning not just in Sprint but in my personal development. It's a gift that keeps giving ,and the Ladder has provide me with skills , experience and capabilities to be able to lead ,facilitate and design. I can now solve real problems and clearly land a meaningful solution . I highly recommend the Ladder Design Sprint and  the Ladder Community" - Mardea Gartree
"If like me, you are an evangelist of the Design Thinking approach, passionate about problem-solving, innovative process and love to facilitate workshop… your search ends here, you are absolutely going to want to be part of The Ladder community! " Virginia Raoul
Organiser
The Ladder makes action easy. We mobilise the public to create new initiatives that target global goals, locally.
Our programmes:
- Community. Pro bono service for people - free design sprint and facilitator training for everyone committed to co-create new initiatives at our workshops.
- Services. Innovation training and professional facilitation of design sprints available for enterprise and government.
- Dashboard. Technology to map local issues, resource new initiatives and report on impact made towards global goals, locally.
www.theladder.io