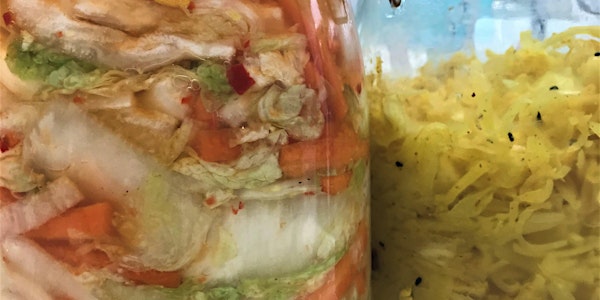 Online LIVE Fermentation Workshop: Kraut and Kimchi
Make-a-long sauerkraut and kimchi workshop. Recipe booklet and recording for 2 weeks after!
Refund Policy
Refunds up to 7 days before event
About this event
We hear all about the benefits of eating fermented foods; healthy digestion, better mood, stronger immunity, and pay lots of money for small jars of goodness. Certainly, as a nutritional therapist, I regularly recommend probiotic foods to clients to support their gut health, hormones and immune systems. 
But the true secret of fermentation is that it's really simple to do at home. With a few techniques and a couple of new habits, you could be gaining all that benefit for very little money. Fancy learning how? If so, come along to my online fermentation workshop and hear all about it.
During the workshop, you can:
Make your own sauerkraut with me AND
Make your own kimchi with me
Leave with your jars of goodness, a recipe booklet and instructions for further adventures in fermentation. You will also be able to access the recording for 2 weeks after the event.
You'll definitely learn something new and will get to try some new flavours, so book your spot today. Spaces are limited. 
To 'make-a-long', you'll need some large glass containers, ideally Kilner jars, a weight for your ferment and your ingredients. However, you'll receive all this specific information once you book in!
If you'd like to learn more about fermented foods, just have a listen to the video below!