Online Oil Pastel Portrait Workshop with Declan O'Meara Sunday 16th January
About this event
Join Declan via Zoom for his live-streamed Oil Pastel Portrait Workshop.
In this guided, step by step, interactive Zoom class Declan will share with you his knowledge of oil pastels.
"I understand that learning a new skill can be daunting, but rest assured there is no need to feel overwhelmed at the idea of portrait painting - I break down every stage into small, achievable steps."
A brief layout of his workshop will include:
Introduction to oil pastel brands and the best tools for blending and layering them.
How to use oil pastels effectively.
Identifying colour zones in a variety of portraits.
Underpainting techniques when using oil pastels.
Visual textures that can be achieved using oil pastels.
Create a unique and expressive oil pastel portrait through blending and layering techniques.
The best varnishes and finishes to use on oil pastels.
Materials needed for the workshop:
Oil Pastels: choose from these recommended brands: Specialist Crafts Oil Pastels, Neo-pastels, Cray-Pas Expressionist or Sennelier. The colours I use from Sennelier (the best quality) are Orange Ochre, Chrome Brown, Luminous Yellow, Mummy, Naples Yellow, Rose Ochre, Titanium Buff, White.
A3 canvas board or canvas
Paper stumps
Colour shapers
Cotton buds
Zest-It medium or low odour turpentine
Small paint brush 000 or 0000
Graphite or carbon paper
Please Note: By signing up, you are giving permission to be added to Declan O' Meara's mailing list and be notified about his upcoming classes.
On purchasing the ticket you will receive the following:
- Portrait template to work from on the day.
- Handouts on the best oil pastel tools and brands to use.
- List of materials needed for the workshop
- Zoom Link to access the workshop.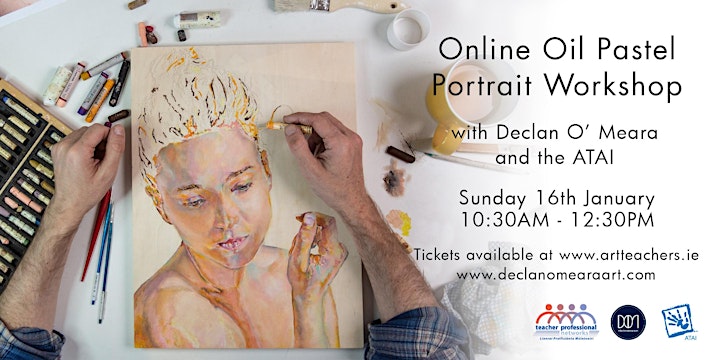 Organiser of Online Oil Pastel Portrait Workshop with Declan O'Meara