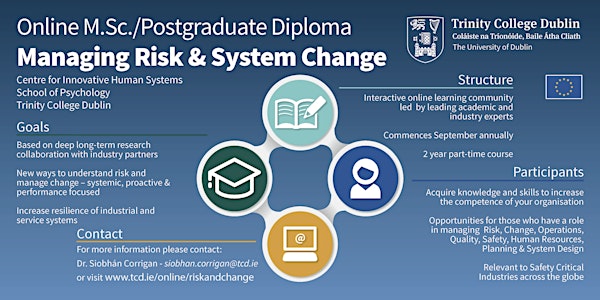 Online Open Evening: TCD Online Master's in Managing Risk & System Change
Description
Register Your Interest NOW
Join us for an online introduction to the Trinity College Dublin Online Master's in Managing Risk and System Change.
The format for the evening will be an introduction to the program along with an opportunity to pose any questions you may have. On the night we will cover the following:
Is This Program Right For You?
Program Modules
Online Learning Environment
Resources and Supports Available To You
Admissions and Applications
Student Experience
**Once you register your interest we will email you a link to join the online open evening a day or two in advance**
The overall objective of this online Masters programme is to provide a rigorous but practical focus on risk, change and system design in operations, manufacturing and services, with an innovative integrated approach to the role of people in such systems. Students on the program work in a range of industries such as finance, IT, emergency services, healthcare, defence forces, aviation and pharmaceuticals.


This course provides students with a stimulating online learning experience by creating a structured yet flexible learning approach. The place of study is flexible as online delivery allows students to engage in learning activities at home or in the workplace and there is no requirement to attend the Trinity campus in Dublin. Students will have access to weekly materials using a virtual learning environment and the opportunity to engage with other students and lecturers using a variety of online discussion boards.
Confirm your place by ordering your ticket now.
Applications for the program are currently open and are assessed on an ongoing basis http://www.tcd.ie/courses/postgraduate/az/course.php?id=DPTPS-MRSC-1O09
Further information on the program is available here: http://psychology.tcd.ie/postgraduate/msc-riskandchange/
or contact Rory Carrick via email to managingrisk@tcd.ie
**Once you register your interest we will email you a link to join the online open evening a day or two in advance**