Online Poetry Reading with poet Enda Wyley for adults & 12-14 year olds
Enda Wyley, author and poet, will host an online poetry event for families/adults and young adults aged 12- 14 years.
About this event
People will be invited to read a favourite poem or a poem they have written themselves. Enda Wyley will also read from her own poetry and discuss writing poetry and creative writing.
12- 14 year olds attending the event online must have a parent/guardian present with them for the duration of the event.
Enda Wyley was born in Dún Laoghaire, Co Dublin. She is a poet and a teacher and member of Aosdána, the Irish affiliation of artists. She has published six collections of poetry with Dedalus Press, most recently Borrowed Space, New and Selected Poems and The Painter on his Bike, 2019.
Enda's books for children from O'Brien Press, are Boo and Bear, I Won't Go to China! and The Silver Notebook. Her poetry for children has been included in anthologies such as Something Beginning with P, O'Brien Press and Once Upon A Place, Ed Eoin Colfer, Little Island.
With her husband the poet Peter Sirr, she also co-hosts the podcast Books for Breakfast about books and writing. https://booksforbreakfast.buzzsprout.com
'Enda Wyley is a true poet.' The Irish Times.
Etiquette Guidelines for Attending Library Events Online
The document sets out in brief some guidelines for those attending online events with Kildare Library Service. They are intended to enable events to run as efficiently and effectively as possible. Our privacy statement in relation to online events can be found on our website at http://www.kildare.ie/Library/PrivacyStatement/Documents/KCC%20Privacy%20Statement%20for%20Library%20Events.pdf
Prepare for the event by addressing/ testing technical issues beforehand
Library events online use Zoom, you do not need an account to participate, simply use the link and password that is circulated to you after you successfully book your place. If you have not used Zoom before, please test it out with a friend or family member beforehand. Zoom host free daily live and interactive webinars to train people on using Zoom
https://support.zoom.us/hc/en-us/articles/360029527911
Decide if you are going to join the event via phone, laptop etc and test it out.
Child Protection and Parental Consent
Bookings for children aged 16 years and under must be undertaken by their parent or guardian. Please be aware that Kildare Library Service requests that a parent/guardian remains present in the room with children aged12 years and under during the event.
Garda Vetting
Any work or activities carried out by a person, a necessary and regular part of which consists mainly of the person having access to or contact with children or vulnerable persons, requires Garda Vetting. This requirement still applies if engaging in the same work online with children / young people.
Recording
Under no circumstances should you attempt to record or take screen grabs of participants. On occasion Kildare Library Service may seek to record events and this will be clearly stated at the onset. Participants have the option to leave the event, or to turn off their camera.
Attendance
The name you use to book the event is the name that will be admitted to the event to guard against Zoom bombing. To assist with this, please check the Zoom name you enter is accurate.
Audio is essential, video is optional
Joining with video is optional, but it would be great if you leave video on when joining the event to say hello. You will need a microphone to participate in any discussion. Please stay on mute unless you are speaking.
Asking a question
Questions will be invited at selected events via the chat function or raising your hand. The facilitator will provide directions for questions at the onset of the event.
When speaking please introduce yourself, it is hard to identify a person just by voice, and it may be confusing if it is not clear who is speaking.
Speak loudly and clearly, ideally use a headset with a microphone if you can.
General Behaviour
Kildare Library Service will not tolerate any instances of inappropriate behaviour that is considered as threatening, derogatory, disruptive or abusive by another person. Any instances of harassment or discrimination will not be tolerated. Any offenders will be ejected from the meeting and refused entry to any other online event organised by Kildare Library Service.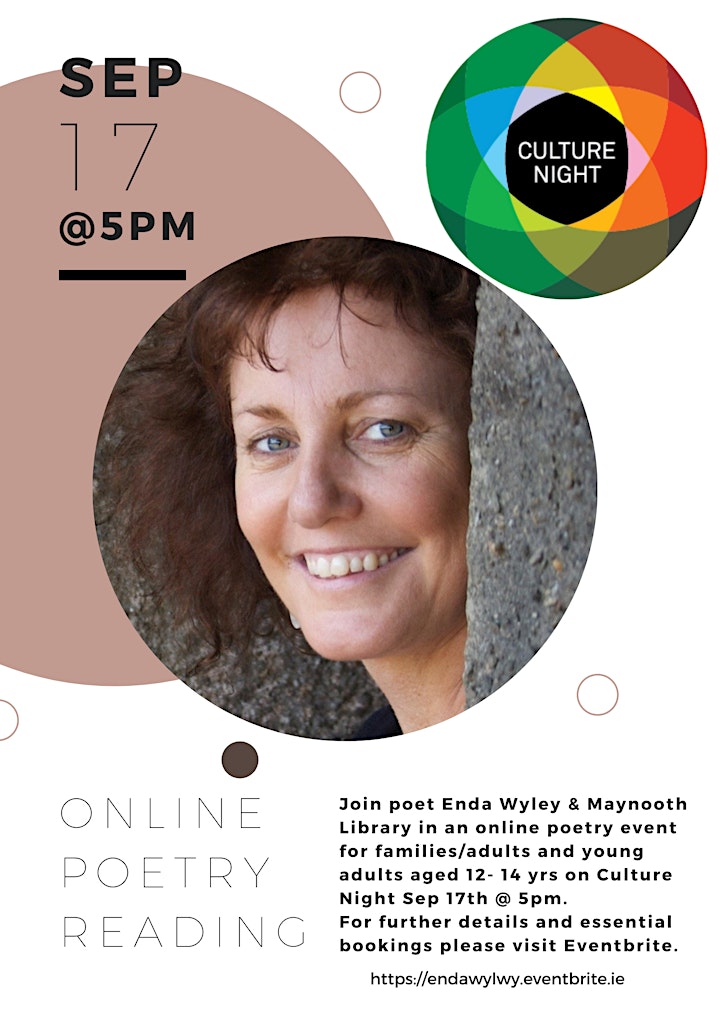 Organiser of Online Poetry Reading with poet Enda Wyley for adults & 12-14 year olds
Kildare Libraries offer a unique community space enabling education and discovery through our collections, e-learning and lectures.
A space for inspiration through our author visits, creative writing groups and programming. A space for creativity and imagination through workshops and festivals, and a meeting space to nourish connections within our community. By connecting, consulting and working collaboratively with all stakeholders, we commit to provide, promote and enable learning, recreation, culture, heritage and well-being for all stages of life within our community.
View Kildare Library Service's Privacy Statement for Eventbrite here: http://www.kildare.ie/Library/PrivacyStatement/Documents/KCC%20Privacy%20Statement%20for%20Eventbrite.pdf
View Kildare Library Service's Privacy Statement for events here: http://www.kildare.ie/Library/PrivacyStatement/Documents/KCC%20Privacy%20Statement%20for%20Library%20Events.pdf