Open Data Impact Series - Open Data and Climate Change
International and national perspectives from both public/private sectors on how open data is produced and consumed to fight climate change
About this event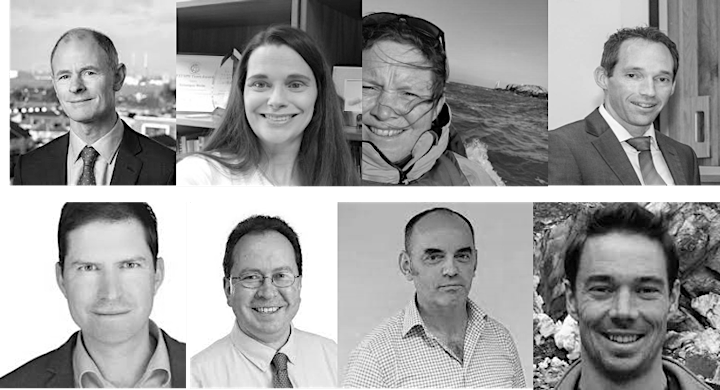 Open Data has proven to be of critical importance in the fight against climate change. Weather and environmental data are key from a transparency perspective to accurately present facts at both regional, nationaI and international levels linked to this challenge.
Open data provides the opportunity to link data of different format/sources (including meteorological, environmental - water and air, statistical, agricultural, energy etc) to better inform decision-making and deliver powerful solutions to address climate related issues.
With direct participation from Minister Smyth, the Open Data Impact Series on Climate Change will include a panel of international/national speakers that will share their insights and experience on how open data is produced, shared, linked and consumed to fight climate change.
Minister Ossian Smyth - Minister of State for Public Procurement and eGovernment
Veronique Morin - Senior Climate Change Specialist - World Bank
Keith Lambkin - Senior Climatologist - Met Éireann
Jamie Cudden - Smart City Lead for Dublin County Council
Professor Brian Ó Gallachóir - Director - MaREI, the SFI Research Centre for Energy, Climate and Marine, Environmental Research Institute
Prof. Tim McCarthy and Dr. Rowan Fealy - Terrain AI Project - NUI Maynooth
Gavin Smith - Land Use, Land Use Change and Forestry Initiative - EPA
Charlotte O'Kelly - CEO - Techworks Marine
The Open Data Impact Series are open to all.
1. Keith Lambkin - Senior Climatologist, Met Éireann
Keith joined Met Éireann in 2006 after a spell in the energy industry. With a background in physics and earth science measurements he quickly settled into his role as Chief Scientist at Met Éireann's flagship weather station, 'Valentia Observatory'. Among other responsibilities Keith led Ireland's weather balloon, solar radiation, stratospheric ozone and geomagnetic monitoring programmes. It was at the Observatory he gained an appreciation for the level of effort it takes to make long term reliable observations suitable for climate studies.
Today Keith is Met Éireann's Senior Climatologist where his interests have changed from measuring the climate to instead using this knowledge of the past, as well as the future, to assist sector experts in how best to adapt to our changing climate.
2. Veronique Morin - Senior Climate Change Specialist, the World Bank Group
Véronique is a Senior Climate Change Specialist in the Climate Change Group of the World Bank. She leads the adaptation work stream in the Climate Change Advisory & Operations Unit (SCCAO), which supports the mainstreaming of climate change into World Bank operations and provides guidance and support for task teams looking to fulfill climate change corporate commitments. She is the Task Team Leader for the Climate Change Knowledge Portal (CCKP), an online data platform which provides the World Bank Group (WBG), its operational teams, and the broader global development community with a comprehensive suite of climate and climate change tools and resources that are both transparent and accessible.
Prior to joining the Bank, Véronique worked at the Scientific and Technical Advisory Panel to the Global Environment Facility (GEF), providing operational and strategic support to the Least Developed Countries Fund and the Special Climate Change Fund, as well as engaging with the GEF and UNFCCC on the climate change adaptation agenda. With a background in Coastal Engineering, Véronique completed a PhD in Disaster Risk Management from the Asian Institute of Technology in Thailand, where she investigated the vulnerability, impacts and coping mechanisms of informal settlers to a major typhoon and storm surge disaster in Metro Manila. She has authored several peer-reviewed publications and was a Contributing Author for the "Small Islands" chapter in the IPCC's Fifth Assessment Report on Climate Change Impacts, Adaptation and Vulnerability.
In her spare time, Veronique enjoys spending time with her friends and family and loves any kind of outdoor activity – especially if it is at the beach!
3. Gavin Smith – Environmental Protection Agency
Gavin Smith is a graduate of both NUI Maynooth & Trinity College where he studied Maths, Geography and Environmental Science. He is a Scientific Officer with the Environmental Protection Agency (EPA) for over 15 years. The EPA recognises the potential of Earth Observation & Spatial Analysis technologies in monitoring and protecting our environment, Gavin works within the EPA's Data Analytics Team in co-ordinating how best these technologies can be used for the environment. He is currently working on 2 key land monitoring projects. The first is the National Land Cover Mapping Project, that Gavin has played a leading role in for over 10 years, and which is now coming to fruition under an OSi / EPA partnership that is going to deliver a high resolution land cover map for Ireland in 2021. The second project is on the integration of national land use data to provide evidential spatial land use data for calculating GHG Emission for Land Use Land Use Change & Forestry (LULUCF) as part of the National Inventories Report. Gavin is also involved in many associated research projects through the EPA Research Programme and is a Member State Expert contributing into the Copernicus Land Monitoring Service run by the European Environment Agency on behalf of the European Commission.
4. Professor Brian Ó Gallachóir - Director, MaREI, the SFI Research Centre for Energy, Climate and Marine, Environmental Research Institute
Brian Ó Gallachóir is Director of the SFI MaREI Research Centre and Professor of Energy Engineering at UCC. He leads MaREI's research on building and using energy systems models that have underpinned Irish and EU energy and climate mitigation policies and energy company strategies. He is also MaREI's Education and Public Engagement Champion and received the Science Foundation Ireland Best International Engagement Award 2020. Brian is elected Chair of International Energy Agency Technology Collaboration Programme on energy systems modelling (IEA-ETSAP) and an elected Fellow of the Irish Academy of Engineering. Brian has published extensively (over 110 journal papers and h-index of 44), has a B.Sc. from TCD and a PhD from UCC.
5. Prof. Tim McCarthy, Terrain AI – NUI Maynooth
Tim has over thirty years R&D experience in Geographical Information Science and Earth Observation, specialising in a number of research areas including;
• Geospatial Analysis & Modelling
• Earth Observation: Satellite, Airborne & Terrestrial Mapping Systems
• Autonomous Technologies including Unmanned Aircraft Systems (UAS) - Drones
• Web & Mobile Geospatial Information Services
• Spatial Decision Support (Cloud-based) Platforms
He is currently Principal Investigator on SFI Strategic Research Partnership U-Flyte, leading a team of ten researchers to develop novel solutions for unmanned aircraft system airspace (U-Space), unmanned aircraft systems traffic management (UTM) and downstream application information services based around wide-area, swarm mapping, object-detection & tracking and drone delivery models.
He also manages a small number of R&D projects together with associated researchers in Precision Agriculture, Road Safety Risk Analysis, Data Standards, Maritime Monitoring and Emergency Management. He provides RTDI support to a number of start-up ventures based around geospatial science & technology including; Earth Observation, Mobile Mapping, Decision Support and Drones. He sits (appointed 2015) as the Irish National delegate for the Copernicus programme in Brussels.
6. Dr. Rowan Fealy, Terrain AI – NUI Maynooth
Dr. Rowan Fealy is a Research-Lecturer in the Maynooth University Department of Geography, National University of Ireland Maynooth where he lectures on both theoretical and applied aspects of the climate system. His particular area of expertise is in regional climate analysis and modelling and land-atmosphere interactions at regional and local scales. He has published widely on all aspects of climate and climate change, with particular emphasis on Ireland. He contributes to the World Climate Research Program (WCRP) initiative which is seeking to develop regional climate projections for use in informing policy at all levels, as part of EURO-CORDEX. He has participated in a number of successful funded research projects as researcher, lead/co-applicant and PI working with state, semi-state, industry and international partners. In recognition of his contribution to scientific research, he was awarded a Fulbright Scholar award in Science and Technology 2012-2013 which facilitated his research, as a visiting scientist, at the National Centre for Atmospheric Research (NCAR) in Boulder, Colorado. He has previously participated in reporting to the United Nations, under the Framework Convention on Climate Change, and acted as an expert reviewer to the Intergovernmental Panel on Climate Change (IPCC) in 2007.
7. Jamie Cudden – Smart City Program Manager, Dublin City Council
Jamie specialises in Smart cities and urban development; Promotion and development of evidence based policy analysis; and Dublin's competitiveness & international benchmarking. Biography:
Jamie leads the development and implementation of Dublin City Council's Smart City strategy. He works alongside the Chief Executive to ensure that the council takes advantage of the opportunity of technology innovation to drive better quality services and address priority city challenges in areas such as mobility/transport, environment and energy efficiency. He manages key relationships across industry, academia and government to promote and build out smart city solutions and demonstrators.
8. Charlotte O'Kelly – CEO, TechWorks Marine Ltd
Charlotte O'Kelly is co-founder and CEO of TechWorks Marine Ltd, which she setup in 2002. She has a background in Oceanography and has over 20 years' experience in this sector.
Charlotte has grown TechWorks Marine into a Marine Data Company, servicing clients internationally in the following sectors: Offshore Renewables, Dredging, Water and Aquaculture. Providing clients with Robust, Reliable and Secure Marine Data either from Data Buoy or in situ monitoring to Earth Observation products and services. Since 2009 Charlotte has worked closely with ESA to develop new data services to the Marine Sector.
#opendata #climatechange #data4good