Event Information
Location
RSTC Regional Skills & Training Centre
Coes Road
Dundalk
Ireland
Open Day for Women interested in a Career in Construction
About this event
The Department of Social Protection is hosting a National Construction Work & Skills Week from 19th – 26th of May 2022 to coincide with the launch of the Government's Housing for All Future Building Initiative.
This initiative will result in two Government Departments, Social Protection (DSP) and Higher Education Research, Innovation & Science along with other related agencies joining forces to target activation and recruitment for the Construction Sector and drive internal projects to support this work.
Through this new Future Building initiative, the Department of Social Protection will be working directly with Jobseekers and supporting them through training and skills development providing Apprenticeship information and matching them with employers
The construction industry will need to entice more women into the sector to meet its future needs and new figures revealed that one in four of the construction jobs added in 2021 went to women and the total number of women in the industry has reached its highest point since records began.
As part of this Construction Work & Skills week, the Department of Social Protection has arranged an Open Morning with LMETB on Apprenticeship opportunities aimed at encouraging more women to consider a career in the Construction Industry. LMETB course tutors will be available to answer any questions and they will provide a tour of the facilities at their Regional Skills Training Centre.
Please be in attendance to start at 12.00pm. LMETB Staff will be available to talk to you about full time and part time courses, traineeships and apprenticeships in the Construction Industry.
This event is being run by Department of Social Protection in conjunction with the LMETB under the Government Initiative " Future Building Initiative, Construction Work & Skills Week 2022,".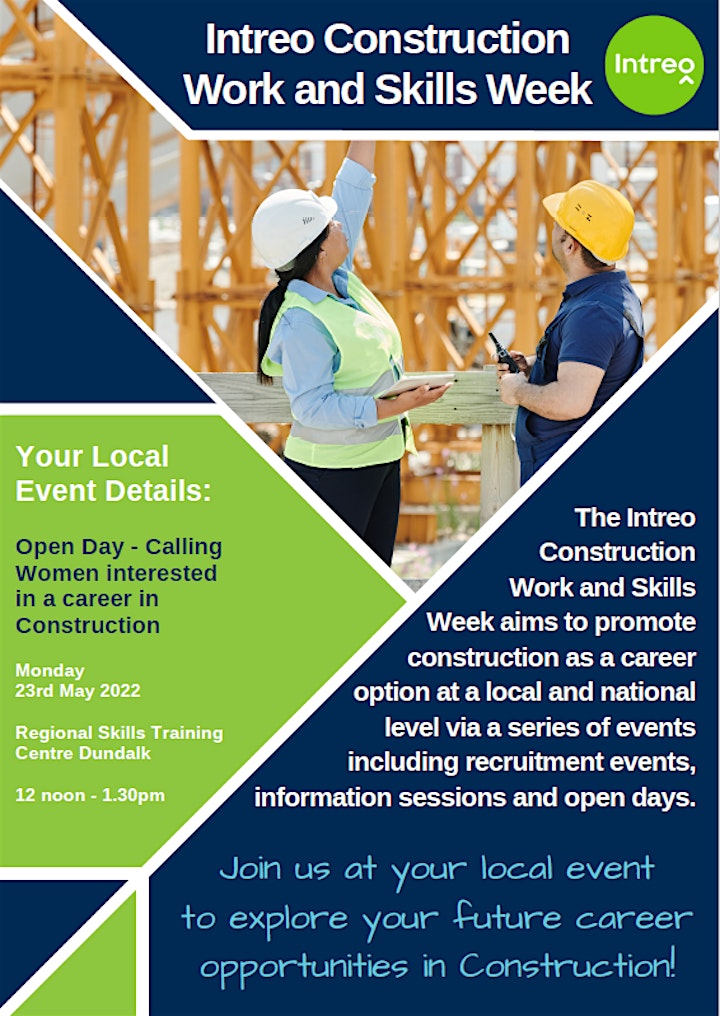 Date and time
Location
RSTC Regional Skills & Training Centre
Coes Road
Dundalk
Ireland