Open Day - studying veterinary in the heart of Europe - Poland, where thousands of international students study in English
About this event
Medical Poland Veterinary Career & University Open Day is designed to show options for students thinking about careers involving animal care and veterinary medicine.
Medical Poland Admission Office for the last 8 years has been consequently helping Irish and all international students who dream of studying medicine or veterinary medicine abroad, in English. There is a number of medical schools in the heart of Europe, Poland that deliver such programmes and have Irish and many other international students.
From a career perspective, two veterinary inspectors will share their experience from both the private sector (working at a private small animal vet clinic and meat plant) and public sector (from the perspective of animal welfare, food hygiene, quality control compliance etc.).
From an academic perspective, we will discuss options to study outside UCD at Polish vet schools, their advantages and disadvantages, clinical and didactical facilities and Medical Poland's support in preparing to get into the Polish universities and preparing to thrive on the course.
Our special guests will be two graduates from Polish vet schools working in Ireland:
Aleksandra Szyszka, Veterinary Inspector at Department of Agriculture, Food and the Marine
Alicja Migowska-Calik, Veterinary Inspector at Department of Agriculture, Food and the Marine
Sadhbh Moran, veterinary medicine student, Wrocław, Poland
Agenda:
1. Medical Poland Admission Office and its role & support
2. Higher Education landscape in Poland
3. Veterinary Medicine :
a) entry requirements - Medical Poland
b) student experience
c) career options - graduates from Wroclaw working at the Department of Agriculture in Dublin
4. Q&A
Contact: support@medicalpoland.ie
For updates, follow us on Facebook: facebook.com/MedicalPoland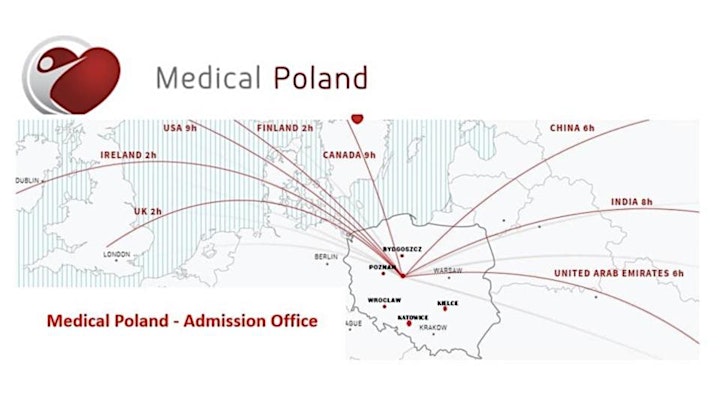 Study veterinary medicine abroad in Poland.
Organiser of Open Day VET Medical Poland Admission Office - 21.10.2021,18:30 IST