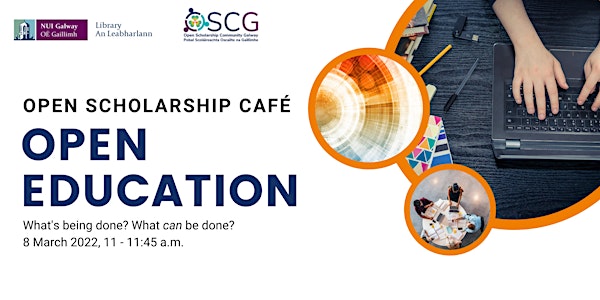 Open Education: What's Being Done? What CAN be done?
Two innovative Open Educational Resource projects from Ireland illustrate some of what's possible in Open Education.
About this event
This Open Scholarship Café showcases two different approaches to creating and making use of Open Educational Resources and give an idea of the diverse possibilities of Open Education.
A Zoom link will be emailed in advance of this virtual session.
Our first speaker of the session will be Odette Gabaudan from Technological University Dublin. Odette will discuss her work with an open resource she has developed for French language learning called French Grammar Resources, an interactive website that makes it easier to work with French tenses and grammar. Odette will describe how students have been asked to use the website as a starting point to create language learning game prototypes. This has allowed material to be remixed in interesting ways in the context of a multidisciplinary student and staff collaboration.
Odette will also mention her work in creating an OER for practicing French in the context of Sustainable Development Goal 12 (Sustainable Consumption and Production). This work is part of a broader institutional initiative, sdgliteracy.ie
In presenting these two OER initiatives, she will share her experience on two very different approaches to creating OER.
Our second speaker will be Dr. Helen Dodson who will be providing an updated on the Open Histology funded project here at NUI Galway.
Co-authored with Shauna McBride, the project involves the development of an open textbook based on Openstax Anatomy and Physiology, tailored to the needs of students at NUI Galway.
Open Histology is one of ten funded projects as part of the NUI Galway OER Pilot Project.
Speaker profiles:
Odette Gabaudan lectures at Technological University Dublin (TUD) in applied French and is Lead tutor for French. She has been involved in multiple OER projects for French including projects funded by the Institut Français and the National Forum.
Dr Helen Dodson joined the Discipline of Anatomy at NUI Galway as a lecturer in Dec 2011, obtaining a PhD in Cell and Molecular Biology from the University of Edinburgh in 2003.