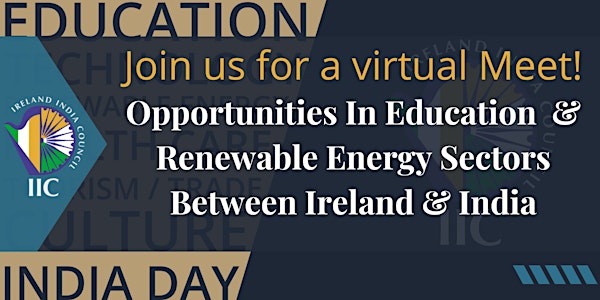 Opportunities In Education and Renewable Energy Sectors
Join us for a virtual Meet! Identifying partners and projects in education and renewable energy sectors between Ireland and India!
Refund Policy
Contact the organiser to request a refund.
About this event
Through a series of virtual conferences, the Ireland India Council provides a space for participants from the India and Ireland to delve more deeply into opportunities and share further learnings. A leading figure will lead each discussion in the sector. There will be a presentation on our forthcoming business delegation to India and vice versa. Participation will be limited on a first-come, first-served basis to keep conversations open, candid and action based for any business in India or Ireland. The event will take place virtually on Monday, November 28, 2022, from 10:30 - 12:30 Hrs Irish Time (16.00-18.00 Hrs Indian Time).
Who Should Attend?
Our event is designed for business owners, academia, and public and private sector members interested in Solar, Overseas Education, Trade, Tourism, Finance, Management and Economics.
The event is a must-attend for:
Business Owners,
University faculty and staff of the international offices,
Advisors and counsellors,
Career officers,
Professionals and business owners interested in Trade visits/delegations,
Business educators and trainers,
Local, national, state, regional and international policymakers and government contractors,
Economic developers and financial analysts,
International business and economics analysts,
Private sector specialists in the fields of solar biogas and renewal energy.
If you don't fall into any of these categories but are interested in the event, we invite you to register!