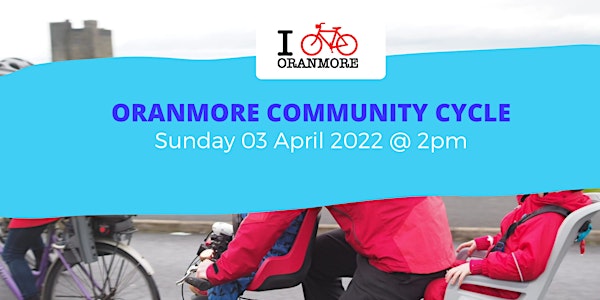 Oranmore Community Cycle
Family-friendly community cycle in Oranmore. Suitable for all ages, and all experience. Come join the fun!
When and where
Location
Oranmore Main Street Oranmore Ireland
About this event
This family-friendly event welcomes cyclists of all ages and abilities. Whether you cycle to work or school every day, hit the greenways on weekends, or haven't been on a bike in years but would like to get back out there, we want you with us!
Starting from the picnic benches on Castle Road.
Please book tickets for each adult and child when registering so we know how many people will be attending overall. Children under 16 must be accompanied by parent/guardian and are the responsibility of that adult for the duration of the event.
We encourage everyone attending to cycle to the event where possible. However, if you are driving to the event, please show your support for safe cycling in Oranmore by parking in one of the many designated car parks, and keeping the streets clear for the cycle.
A map of parking locations will be circulated to all who register.
__________________________________________________________
SAFETY MESSAGES FOR THE COMMUNITY CYCLE
• Gardai and bike marshalls at the cycle are there to ensure your safety. Please follow any instructions that you are given.
• This is a family-friendly cycle. It will be paced at the speed of our youngest and slowest participants.
• If you have small children cycling, please cycle with them at the front of the overall group, for safety reasons. This also helps ensure that no-one is left behind.
• Parents/Guardians with children should ensure that children cycle on the inside (i.e. closest to the footpath) and that parents are on the outside (closest to the centre white line on the road).
• Please stay in the left lane at all times when cycling. The roads are not closed and there will be traffic on the other lane.
• Please do not allow gaps to form as we cycle around Oranmore, as this can lead to motorists attempting to cut in. Keep together and as close to the people ahead of you as it is safe to do.
• Parents/Guardians are responsible for the safety of their children for the duration of the event. Children under 16 must be accompanied by an adult.
We look forward to seeing you.