The ORBITAL Seminar Series continues with this talk with Clive G. Wilson, Strathclyde Institute of Pharmacy and Biomedical Sciences, Glasgow
About this event
Join ORBITAL for this conversation with Dr. Silvia Pescina, Assistant Professor at the Food and Drug Department, University of Parma.
This event takes place via ZOOM (link to come in an email immediately after registering).
Many tissues of the body show mechanisms which reduce exposure to non-nutrient to avoid accumulation and metabolic changes. The "open tissues" are well-perfused, whereas poorly perfused tissues have relatively large mass and can act as a sink for unwanted material. The eye is a peculiar case: a small organ under hydrostatic pressure, enclosed in a bony orbit. Like the brain, the tissue is protected by extra barriers which reduce xenobiotic exposure. The surface provides part of the visual apparatus and the optics of the lens-cornea system are refined by the tear film on the outside and the anterior fluid flow on the inside. On the other side of the lens, the vitreous gel act as hydraulic support, but these properties are lost on ageing and movement applied to the eye starts to contribute to advective flow of internal fluids.
As delivery scientists, we often consider that simple partition rules, using the cornea as the rate limiting membrane, are sufficient to explain delivery The issue of flows, within and around the eye, are however very important in determining the residence time of material. If these are then altered, can new technologies be employed to safely and directly introduce drugs selectively into the eye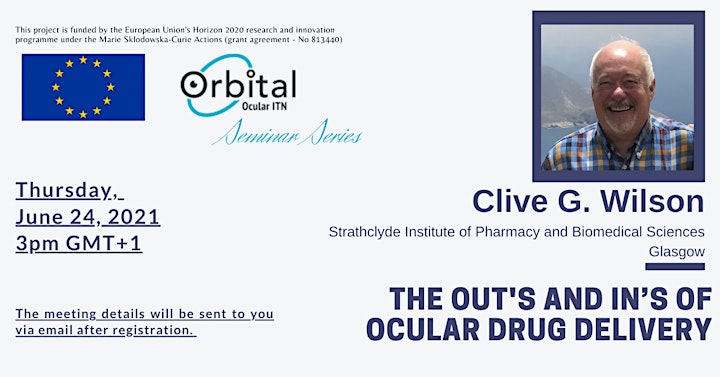 Organiser of ORBITAL Open Seminar Series:The Out's and In's of Ocular Drug Delivery