Dr. Inglis and Dr. Montague-Cardoso help to demystify the life science publishing landscape with a focus on open publishing models.
About this event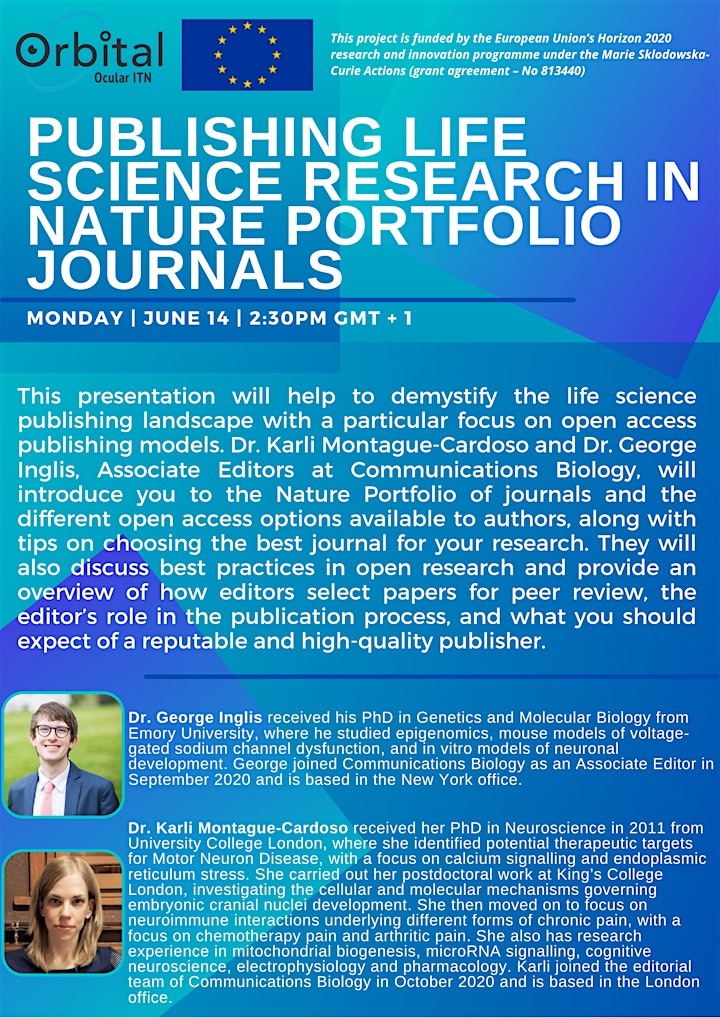 This event takes place via ZOOM (link to come in an email immediately after registering).
Monday, June 14
2:30 PM GMT+1 (British Summer Time)
This presentation will help to demystify the life science publishing landscape with a particular focus on open access publishing models. Dr. Karli Montague-Cardoso and Dr. George Inglis, Associate Editors at Communications Biology, will introduce you to the Nature Portfolio of journals and the different open access options available to authors, along with tips on choosing the best journal for your research. They will also discuss best practices in open research and provide an overview of how editors select papers for peer review, the editor's role in the publication process, and what you should expect of a reputable and high-quality publisher.
About the Speakers:
Dr. George Inglis received his PhD in Genetics and Molecular Biology from Emory University, where he studied epigenomics, mouse models of voltage-gated sodium channel dysfunction, and in vitro models of neuronal development. George joined Communications Biology as an Associate Editor in September 2020 and is based in the New York office.
Dr. Karli Montague-Cardoso received her PhD in Neuroscience in 2011 from University College London, where she identified potential therapeutic targets for Motor Neuron Disease, with a focus on calcium signalling and endoplasmic reticulum stress. She carried out her postdoctoral work at King's College London, investigating the cellular and molecular mechanisms governing embryonic cranial nuclei development. She then moved on to focus on neuroimmune interactions underlying different forms of chronic pain, with a focus on chemotherapy pain and arthritic pain. She also has research experience in mitochondrial biogenesis, microRNA signalling, cognitive neuroscience, electrophysiology and pharmacology. Karli joined the editorial team of Communications Biology in October 2020 and is based in the London office.
Organiser of ORBITAL: Publishing life science research in Nature Portfolio journals