Final day of Open Scholarship Week 2021
About this event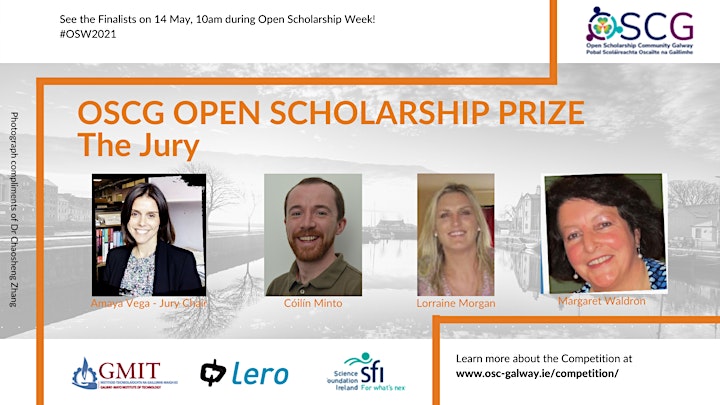 OSCG Open Scholarship Prize - The Final
Changing research & education for the better: How my research contributes to Open Scholarship.
The Open Scholarship Prize Competition is a stimulating competition for postgraduate research students and early-career researchers from all over the world to present in accessible jargon-free language how their research contributes to Open Scholarship. The prize recognises the substantial contribution that Open Scholarship makes to the betterment of science and society through making research more accessible, transparent are reproducible.
The competition is designed to showcase researchers' experience with the use of Open Research practices, Open Research tools and/or the creative use of Open Data before a jury of experts at Open Scholarship Week.
The session consists of a series of shorts presentations by the participant researchers followed by Questions and Answers from the jury. Chaired by Dr Amaya Vega from Galway-Mayo Institute of Technology (GMIT), the jury includes researchers from GMIT and LERO, staff members from the GMT library, and professionals working on promoting Open Scholarship in Ireland. There will be a range of prizes announced on the day for the winners of the competition.
Sponsors include Science Foundation Ireland, LERO, and Galway-Mayo Institute of Technology (GMIT).
The Open Scholarship Prize Jury
Dr Amaya Vega, Lecturer, School of Business, GMIT (Jury Chair)
Dr Cóilín Minto, Statistical ecologist GMIT and open source scientific software developer
Dr Lorraine Morgan, Business Information Systems/Lero, NUI Galway
Margaret Waldron, GMIT librarian