John is now offering a weekly Osho Dynamics Meditation group at The Yard Aghafore on a donation only basis.
About this event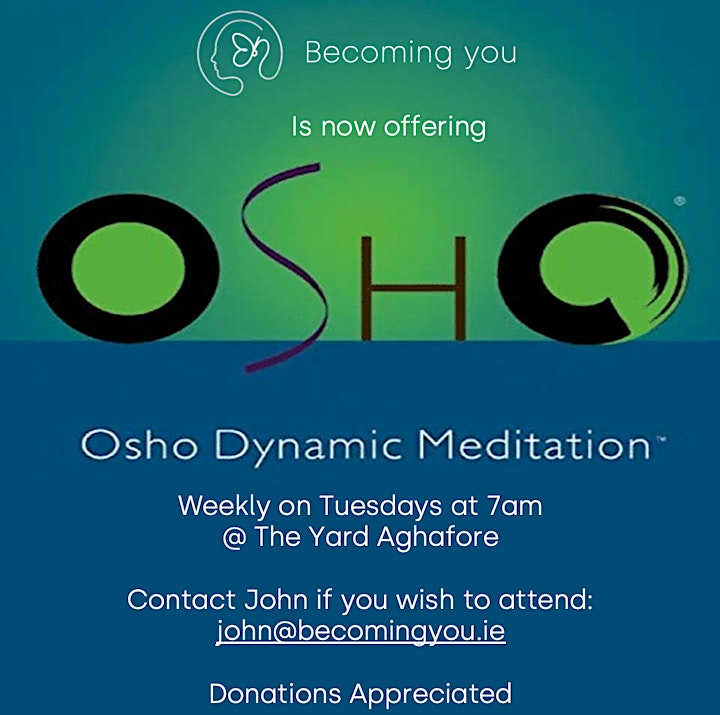 Osho Dynamic Meditation is a 60 minute active meditation technique of 5 stages:
Fast, deep and chaotic breathing for 10 minutes,
Followed by 10 minutes of catharsis,
Then 10 minutes of jumping and shouting a mantra "hoo",
Next there is 15 minutes of silence,
Finally 15 minutes of celebration through dance.
Each stage is demarked by music which has been specifically made for this meditation. It is an individual experience so one should remain oblivious of others and keep the eyes closed, preferably using a blindfold.
Practical Considerations
The Yard is predominantly an outdoor space - the session will happen in the big shed which is classed as an outdoor space because of the % of it that is not enclosed, as such these sessions will be categorised as outdoor sessions. There are some things for you to consider before you book in:
There are no doors on the shed yet and as such both ends are open to elements - If the weather isn't great it may be cold and/or even a bit wet. I don't let this deter me as I embrace the elements in my work as such I will never cancel a session because of bad weather unless it is a status yellow warning or above.
Please note we do not currently have a toilet at The Yard.
There will be plenty of parking and you can arrive anytime from 6:45 am onwards.
The session will last 1hour and a half from 7am to 8.30am.
There is no charge for the sessions and donations are greatly appreciated. All donations will go directly into improving the Shed and its comfort levels.
A blindfold
Yoga or exercise mat 🧘‍♀️
Old Cushion or pillow that you don't care about
Water
Blanket
Pen 🖊
Notebook 📔
Loose clothes for during and warm clothes for after
Covid Considerations
I will cap session at 15 people including me.
I will strive to keep a good physical distance between all attendees. As such I will ask you to spread your mats out.
I will not be asking people to wear a mask as this would hinder the experience. As both ends of the shed are open there is exceptionally good ventilation.
I will not be asking people if they are or are not vaccinated and we will not be determining inclusion/exclusion on this basis
I will ask you to fill in an online webform questionnaire on the day of the event. If you answer yes to any of the questions on this questionnaire I will ask you not to attend the event that day.