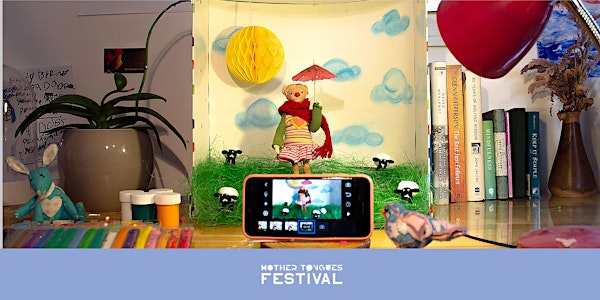 Our Family Movie
Stop Motion Workshop for families with children 8+ (in Brazilian Portuguese)
Refund Policy
Contact the organiser to request a refund.
About this event
What do you think about creating a Stop Motion animation video with your family? An original family movie!
This workshop was designed to bring families together to create a stop motion animation video while practising their native language, Brazilian Portuguese. We want to invite the participants to choose their favourite family history to turn it into a script. In our 90 minutes class, using storyboarding, building a set, characters, and open-source software, you will transform your story into a stop motion animation using a cardboard box that will magically become a "Home Studio Box". And the most exciting, we will invite you to share your Family Movie with the world! The video results of the workshop will be shared on the Mother Tongue Festival platform. That means you and your family will be the artists at the Festival. So, get your family together, grab your box and artistic supplies you find in your home and come to create an animation movie together.
Download the PDF with the required material here.
About the facilitator
Fernanda Ferrari is a Brazilian multidisciplinary artist who has an extraordinary passion for inspiring children to experiment with art. For more than 20 years, she has worked in theatre, street performance, art education, stop motion animation and visual storytelling. She has facilitated art workshops for children and adults in different countries, exploring art as a powerful transformational tool.
This event is part of the Mother Tongues Festival. Check out our rich programme of events: www.mothertonguesfestival.com
*With our Festival Pack you will get a ticket for your event and a copy of the Language Explorers activity book, produced by Mother Tongues. The book is the perfect companion to your festival adventures!
This event or parts of it may be recorded for documentation purposes . Recordings will only be used internally and never shared online or with third parties. By buying this ticket you agree to take part in a workshop that is being recorded.