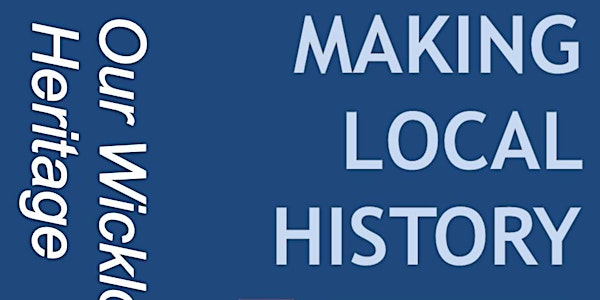 Our Wicklow Heritage: Making Local History
Location
Brockagh Resource Centre
Laragh
Glendalough
Ireland
Description
This event is organised as an action of the County Wicklow Heritage Plan and aims to highlight the important role of local historical societies in county Wicklow and to explore opportunities to support and strengthen this role.
We are delighted to confirm that Professor Raymond Gillespie, from Maynooth University Department of History will be our keynote speaker. There will also be presentations from Wicklow Library and Archives services on resources available locally, presentations from five
local historical societies in County Wicklow and a group workshop session focussed on ideas for strengthening the role of historical societies in a modern day Wicklow.
PROGRAMME
9.30 Register
SETTING THE SCENE
10.00 Welcome & Introduction – Deirdre Burns, Heritage Officer, Wicklow County Council
10.15- 11.00 Keynote Address by Professor Raymond Gillespie, Department of History, Maynooth University
Q&A
11.00- 11.30 Tea/coffee break
11.30 – 12.00: Wicklow Local History Resourses – Catherine Wright, Archivist/ Genealogist, Wicklow County Council
HISTORICAL SOCIETY PRESENTATIONS
12.00- 12.20: Early Medieval Enclosures At Roundwood, Co. Wicklow :
David Menzies, Roundwood & District Historical & Folklore Society
12.20-12.40: Glenmalure The Wild Heart Of The Mountains , Sources & The Pathway To Publishing:
Carmel O Toole, Rathdrum Historical society
12.40-13.00: The Kynoch Explosion 1917- It's Importance To Wicklow As A Whole:
Jim Rees, Arklow Maritime Heritage Committee
13.00-14.00: Lunch
14.00-14.20 Know Your Neighbourhood (using maps, trade guides, census returns and other data):
Brian White, Bray Cualann Historical Society
14.20 – 14.40 It Is The Home Rule Bill That Has Done That Wicklow Women and The Women's Declaration Of 1912: Rosemary Raughter, Greystones Archaeological & Historical Society
WHERE TIO NEXT?
14.45 – 15.45 Group workshop (issues & opportunities)
15.45 -16.00 Concluding remarks
This event is co-funded by Wicklow County Council and The Heritage Council as an action of the County Wicklow in 2017. For more information contact Deirdre Burns, Heritage Officer dburns@wicklowcoco.ie T: 0404 20100