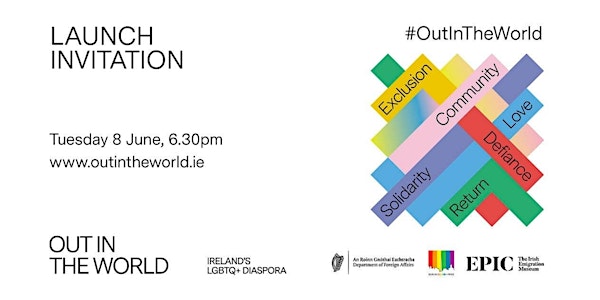 Out In The World: Ireland's LGBTQ+ Diaspora - Official Launch
Join us for this special online event to launch our new temporary exhibition, in partnership with the Department of Foreign Affairs
About this event
Across the generations, Irish LGBTQ+ people have emigrated and found opportunities to live and love abroad.
EPIC The Irish Emigration Museum, in partnership with the Irish Department of Foreign Affairs, are proud to play a role in illuminating this hidden history of Irish emigration.
Across six themes—exclusion, community, love, defiance, solidarity and return—Out in the World highlights twelve stories from the vast history of Ireland's LGBTQ+ diaspora. The exhibition also features an artwork by award winning Irish designer and multidisciplinary artist Richard Malone.
Rory O'Neill, drag performer and activist will officially launch the exhibition. Further contributors to the event include Colm Brophy, Minister of State for Overseas Development Aid and the Diaspora, Vanessa Monaghan, chair of the London Irish LGBT Network, Paul O'Dwyer, founding member of the Irish Lesbian & Gay Organisation in NYC and artist Richard Malone. Christelle Gerbhardt of Dublin Pride will MC.
You will also hear from the exhibition curator Dr Maurice Casey, our Historian-in-Residence with the Department of Foreign Affairs. You can learn more about the exhibition on www.outintheworld.ie.
To register your interest in watching this event please sign up by clicking on the Register button above.
Our exhibition will be open in The chq Building from June 8, with free admission during June, as part of the Dublin Pride celebrations. You and your guests will be most welcome to visit. Our award winning Museum is open 7 days a week. We look forward to welcoming you.