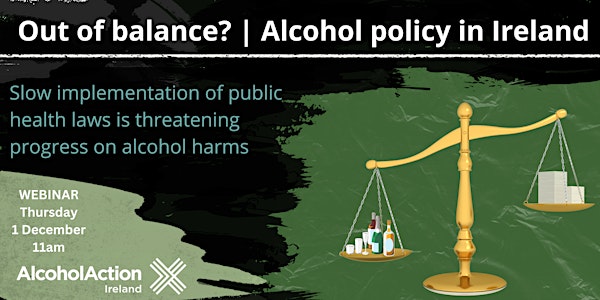 Out of balance? Alcohol policy in Ireland
This event examines progress in Ireland on taking a public health approach to alcohol policy and looks at upcoming threats.
About this event
It is now four years since the passage of the Public Health (Alcohol) Act 2018 which for the first time in the history of the State took a public health approach to alcohol policy. Measures such as Minimum Unit Pricing, health information labelling, controls on advertising and structural separation in mixed retail are some of areas of alcohol policy in the Act. This event looks at what has been achieved to date and examines threats to the intent of this ground-breaking legislation, including the recent announcement of the Sale of Alcohol Bill.
Speakers include:
Dr Sheila Gilheany, CEO, Alcohol Action Ireland
Public Health Alcohol Act - a lot done but much more to do.
Ireland's most contested legislation was finally passed in 2018 but that was only the start of the battle to implement its life saving measures. Industry opposition has delayed key elements and determined advocacy has been needed to ensure the Act fulfils its purpose to reduce alcohol use by 20%. Most recently the announcement of the Sale of Alcohol Bill with proposals to extend licensing hours and outlets poses a significant threat to the intent of the Act.
Sheila joined AAI in 2019 and has extensive experience in policy development and advocacy. She has led a range of not-for-profit organisations in science, education and public engagement. She is a member of the Public Health Alcohol Research Group established by the Minister for Health in Ireland to advise on alcohol policy evaluation research and is a Board member of the European Alcohol Policy Alliance, Eurocare.
Dr Zubair Kabir, School of Public Health, University College Cork
Compliance of mixed trade retailers with Section 22 of PHAA in Ireland: 6- and 18-months post-implementation
In 2018, the Government of Ireland enacted the Public Health (Alcohol) Act 2018 (PHAA), which was enforced in November 2020. Section 22 of PHAA stipulates that mixed trade retailers should separate their alcohol products and related advertisements from other items sold within the store. A convenience sampling of 90 and 33 mixed retail shops were visited 6 months and 18 months, respectively, post-implementation, in Cork City. Compliance was assessed against the legislative requirements in the PHAA. 42% (38/90) in the first visit (six months later) and 94% (31/33) in the follow-up visit (18 months later) were compliant with the requirements of structural separation of alcohol products. However, it is important to continue monitoring if population-level per-capita alcohol consumption patterns have declined post-PHAA.
Dr Zubair Kabir is a trained public health doctor from India, with higher training in epidemiology and public health in Trinity College Dublin. Currently, he is a Senior Lecturer in Public Health at the School of Public Health in UCC. He directs a multi-disciplinary Master of Public Health program in UCC and is research active- having one of the highest citations in Ireland. He is the primary researcher from Ireland on the Global Burden of Disease Study, and has co-authored 50+ high impact journal publications in the Lancet, Nature, Nature Medicine through this global collaboration. Dr Kabir has extensive research experience in Tobacco Control and is the founding editor-in-chief of the Tobacco Use Insights Journal since 2008. He is a workpackage leader of a Horizon 2020 consortium - the unCoVer project partnering across 29 EU and non-EU countries. He is a co-proposer from Ireland on the EU COST Action - the European Burden of Disease Network. He serves on several committees, both locally and nationally
Dr Nathan Critchlow, University of Stirling.
How have alcohol companies responded to Ireland's restrictions on alcohol advertising and sponsorship?
This talk will look at how alcohol companies have responded to the November 2019 restrictions on alcohol advertising (e.g., on public transport / outdoor) and November 2021 restrictions on alcohol advertising during sport. Specifically, it will focus on the practice of 'brand sharing' between alcohol drinks and non-alcoholic offerings and how this fits with the recent legislation.
Nathan Critchlow is an SSA Academic Fellow at the Institute for Social Marketing and Health, University of Stirling. He specialises in analysing commercial determinants of health, the impact of marketing exposure on health-related attitudes and behaviours, and the regulation of marketing practice.
Panel discussion.