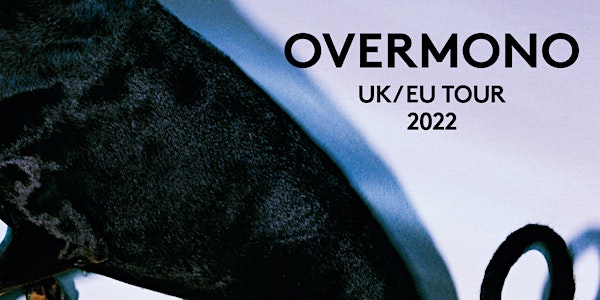 OVERMONO (Live) | Centre Point, Dublin
We are delighted to announce Overmono will bring their Live show to Centre Point, Dublin on Thursday, October 6th.
When and where
Location
Centre Point Crow Street Dublin Ireland
About this event
Tickets go on sale Thursday, April 14th at 10 AM priced at €15. Pre-sale is available from Wednesday, April 13th sign-up via www.overmono.com/tour
Follow the release of their latest EP via XL Recordings "Cash Romantic", Overmono set off on a three date Irish tour, hitting Cork, Limerick and Dublin.
Overmono are fast becoming the duo to define the UK club sound of this era. Already this year, they have sold-out two major headline shows and are set to perform at 40+ festivals across the globe. With more to come, 2022 is going to be Overmono's biggest year yet. In 2021 Overmono were named 'Best Live Act' at the prestigious DJ Mag Best of British Awards after exploding across the live music circuit. Their summer anthem 'So U Kno' reignited club and festival dancefloors post-pandemic and went on to be named 'Track of the Year' by Resident Advisor. Meanwhile, they produced three critically acclaimed EPs, a BBC Radio 1 Essential Mix and a compilation for iconic London institution Fabric, which is hailed as one of the best-ever released since the series inception in 2019.
Recent praise of Overmono:
"Numerous people in the industry have been banging on about the lack of live electronic acts for years now. In the '90s we were spoilt by having the likes of Underworld, The Prodigy, Orbital and the Chemical Brothers...There are a few excellent modern day contenders to line up alongside those hardy perennials. But Overmono are undeniably the live act we need right now. This is their time." -DJ MAG
"The Russell brothers provided some of the most memorable dance music tracks of the year that we will forever be associated with this period in history." -THE QUIETUS
"After releasing a 10/10 edition of the 'Fabric presents' mix album series, they soundtracked our collective return to the dancefloor with two indisputable anthems (Bby and So U Kno) that cemented their status as UK dance royalty. Long may their reign continue." -MUSIC RADAR
"They've signed to XL, collaborated with Joy Orbison, remixed Thom Yorke, appeared in GTA, and generally seem to be the UK techno group of the moment. Their fabric Presents mix, then, comes at an auspicious moment where they seem poised to approach chart-threatening, Bicep-style territory." -RESIDENT ADVISOR
"So U Kno, the Overmono track that opens the mix, is particularly excellent: an iron-clad 2-step battleship with an irresistible hook, the steel of techno colliding against the rubbery skitter of UKG." -PITCHFORK
Cash Romantic follows the release of singles "Gunk" and "Gfortune", "Cash Romantic"gets a highly anticipated digital release today alongside the launch of pre-sale for the 12" vinyl which features artwork by longtime collaborator Rollo Jackson. While in 2021 Overmono celebrated the underground sound systems and clubbers with acclaimed releases "BMW Track / So U Kno", "Diamond Cut / Bby" and "Pieces Of 8 / Echo Rush", "Cash Romantic"marks the start of a new phase in their evolution; one that introduces a broader spectrum to their deft compositions and propels their unique sound beyond the dancefloor. Inspired by a box of mixtapes they discovered from their youth that contained recordings of tracks they had made by taking vocal-led songs from their parents' record collection and fusing them with techno, drum & bass, and trance beats. For "Cash Romantic", they adopted a similar production method; layering modern pop, R&B, and trap vocal samples with weighty basslines, intricate synths, and reverberating textures to deliver their most forward-thinking and eclectic record to date. On the record, the duo said "there was always something about trying to get two totally different worlds to collide that stuck with us. After listening to some of these old tapes, we wrote this record and realised our heads are still pretty much in the same space as when we were kids".
Strictly Over 18's