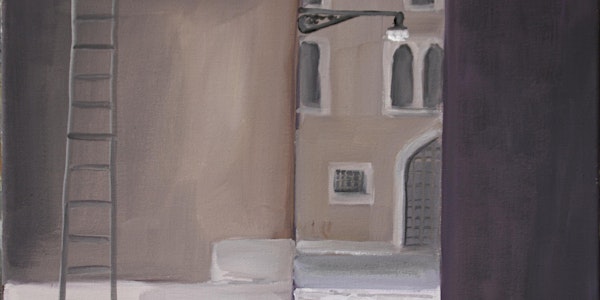 Painting: Personal Memory and Expression. With William Gallagher
Collection Thoughts - Collection Talks: Kathy Tynan & Andrew Vickery
About this event
On the occasion of the new acquisitions of Kathy Tynan's Packed Light & Andrew Vickery's Venice Ladder works to the Collection, after their two person exhibition in 2020, join art historian and writer William Gallagher for this exploration of the work of these two distinctive figurative painters.
Though almost opposite in demeanour - one reserved, the other ebullient - both suites of work share an exploration of themes of experience and recollection. And while overtly figurative and technically accomplished, both are much more concerned with capturing something concrete in the emotional rather than the material.
As response to their practice, this talk will look at related ideas in modern Irish and international painting of personal memory and expression, touching on ideas of narrative, pictorial style and the 'innocent eye', and how for some remembering is itself an act of imagination.
About the artists:
Kathy Tynan (b.1984) graduated from NCAD with a BA in 2008 and an MA in 2010. Recent solo exhibitions include Green Like Now, Kevin Kavanagh, Dublin (2019); Luminous Twitch, The Lab Gallery, Dublin (2019) and Atonal Supersound, Kevin Kavanagh, Dublin (2017). Recent selected group shows include The Hennessey-Craig Shortlist, RHA, Dublin (2019); Everything is in Everything, Sirius Arts Centre,
Cork (2019); Traversées du Marais, Cité Internationale des Arts, Paris (2018); Trophy Hunters, Dada Post, Berlin (2018); Constellations, Kuvataide Academia, Helsinki (2018); Many Worlds, Centre Cultural Irlandais, Paris (2017); There Are Little Kingdoms, Mermaid Arts Centre, Co.Wicklow (2016) and Hands Laid On, Kevin Kavanagh, Dublin (2016). Tynan completed a three-month residency at the
Cité Internationale des Arts, Paris and published her first book of paintings, Proud & Strong All Day Long in 2018. In 2019 she was the winner of the Dublin City Council Visual Arts Bursary and is currently undertaking a two-month residency.
Andrew Vickery was born in the UK in 1963. He moved to Dublin
in 1994 and is currently working in Berlin. He studied at University of Ulster (MFA) and Ealing College, London (BA Hons. Modern European Studies). He has had solo exhibitions at Douglas Hyde Gallery 2,
The Royal Hibernian Academy, West Cork Arts Centre and the Peppercanister Gallery Dublin. Group exhibitions include Highlanes Gallery, Irish Museum of Modern Art, Douglas Hyde Gallery, Kerlin Gallery, Istanbul Modern, Benaki Museum Athens and Exhibition Laboratory Helsinki. He collaborated with Little Green Cars band as part of Musictown Festival at the Abbey Theatre Dublin.
Andrew Vickery is represented in public collections including the
Irish Museum of Modern Art, The Arts Council of Ireland and the Government of Ireland.
Attendee Outline:
• One ticket need only be purchased per household/screen
• A maximum of 25 screens/attendees/families may be admitted to the Session.
Zoom Guidelines & Settings
• The required ZOOM link will be sent to all attendees via Eventbrite 1 hour before the event starts
• As further protection, each unique link will be accompanied with a password only for those intending to participate, and sent to the email used to book through Eventbrite
• ZOOM's 'Waiting Room' feature has been enabled, allowing the host to check and admit attendees to the session. Please make sure your ZOOM username/profile name matches that which was used to book through Eventbrite
• Use of Social Media Accounts to sign into the Workshop ZOOM meeting have been disabled to protect privacy of attendees
• Workshop will be locked once all scheduled attendees have been admitted
• File Sharing has been disabled
• ZOOM's Chat Save function will be disabled
• ZOOM's Private Chat function will be disabled