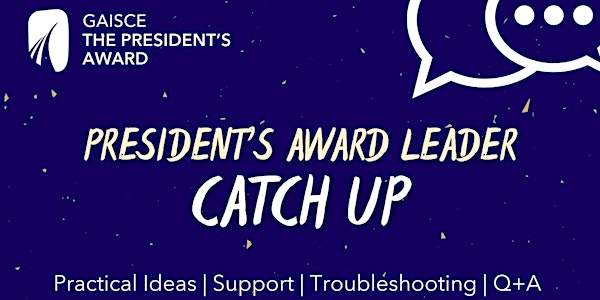 PAL Catch Up: Mary Yore's Region
Catch up for PALs based in Louth, Meath, Westmeath, Laois, Offaly, Longford, Cavan, Monaghan, Roscommon and Leitrim with Mary Yore
About this event
We want to make sure you have all the information you need as a President's Award Leader (PAL) to support, mentor and guide all of your participants towards the successful completion of their Gaisce journey.
👋 This will be an informative, practical and supportive hour, including:
Run through and Q&A
Troubleshooting supports, sharing knowledge between PALs on best practice and solutions
Ideas and suggestions for ensuring participants can complete successfully
Connecting with PALs in your county/region
Areas included in this session are:
Louth
Meath
Westmeath
Laois
Offaly
Longford
Cavan
Monaghan
Roscommon
Leitrim
What you will need:
Cuppa ☕
Notepad for any suggestions/ideas you get from the chat
If you have time in advance to note down any questions or thoughts you want to share with other PALs in a similar situation, please do.
A quiet location (if that's available!)
Laptop with built-in mic and camera [recommended over a phone for comfortable viewing and participation in the chat]
Please consider attending with your video on – this very much enhances the chat and you will be more recognisable to other PALs in attendance! 😊
Accessing the PAL Catch-up:
🖥️ We will send out a Zoom link an hour before the event. Please ensure you register with an email address you access regularly. We will send you a reminder 2 days before the event too, but if you can, please add this event to your relevant calendar once you receive your Eventbrite confirmation email.
📍 The sessions are split up by Region and we recommend you attend your regions session, but if that is not possible due to a date/time clash, PALs are welcome to attend any of the Catch-ups.