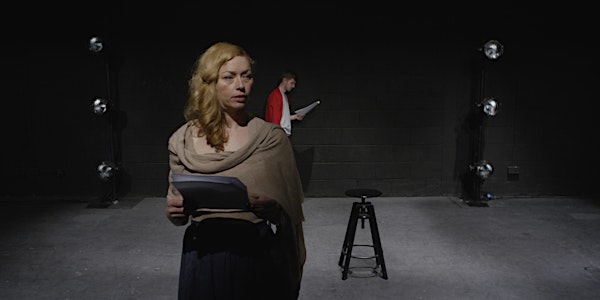 Panel Discussion: The city is a theatre of social action
When and where
Location
Temple Bar Gallery + Studios 5-9 Temple Bar Dublin Ireland
Description
Temple Bar Gallery + Studios is pleased to host a panel discussion in collaboration with the Irish Architecture Foundation, in relation to Gavin Murphy's current exhibition Double Movement. The exhibition includes new works in film, sculpture, text and photography made by the artist based on his in-depth research into the now defunct Eblana theatre, which was located in the basement cinema of Dublin's famous central bus station Busáras.
To further discuss the exhibition and its subject matter, Gavin Murphy will be joined by Director of Dublin Theatre Festival Willie White, Architectural historian Ellen Rowley and Director of The Irish Theatre Institute Siobhán Bourke to discuss aspects of modernism in theatre and in architecture in the context of Ireland from the 1950s to the 1980s.
Gavin Murphy is a Dublin-based artist and curator with an interest in documenting cultural spaces and histories. Solo exhibitions include 'In Art We Are Poor Citizens' (part of the 'Sleepwalkers' series, 2014) and 'Remember' (2010), both Dublin City Gallery The Hugh Lane; 'Colophon', Oonagh Young Gallery (2012), and 'Something New Under the Sun', Royal Hibernian Academy (2012). Group exhibitions include 'Changing States: Contemporary Irish Art & Francis Bacon's Studio', BOZAR, Brussels (2013), and 'After the Future', eva International, Limerick (2012). He is co-director/curator of the artist-run space, Pallas Projects/Studios, and was co-editor of the recent publication Artist-Run Europe, published by Onomatopee.
Dr. Ellen Rowley is an Irish Research Council Fellow at UCD's School of Architecture and the Heritage Office, Dublin City Council. She is a cultural and architectural historian, educator and writer on twentieth century Ireland, educated in Trinity College Dublin and Cambridge University. She recently co-edited Volume IV, Architecture 1600 – 2000, part of Art and Architecture of Ireland series (Yale University Press, 2014). Ellen has led the pioneering research and inventory project of Dublin city's 20th-century architecture since 2011 for DCC and the Heritage Council. The first step towards disseminating this material was published in May 2016, More than Concrete Blocks: Vol 1, 1900 – 1940 (Four Courts Press), and Volume 2, 1940 – 73 is underway, to come out by the end of 2017. Her history of Dublin housing (Dublin is Building: housing, architecture and the edge condition, 1930 – 70) is also forthcoming. Since early 2016, Ellen has been working with DCC on developing the Tenement Museum Dublin Project in no.14 Henrietta Street.