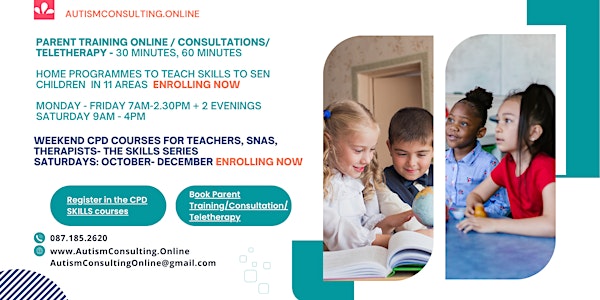 Parent Training and Teletherapy : Teach SKILLS to ASD child at home
Implement home programs with your child 0-22 y.o. with special educational needs: ASD, ADHD, speech delay, developmental delay
Refund Policy
Contact the organizer to request a refund.
About this event
On our parent training and consultations you will find out how to easily implement home-based programs to help your child (who is in pre-school, primary, post-primary, special school ) to improve skills in up to 17 areas of functioning.
Consultations as parent training or teletherapy can be scheduled
Monday-Friday 7am-2.30pm + 2 evenings GMT
Saturday 9am- 4pm GMT
The fee is EUR 70 for 30 minutes or EUR 110 for 60 minutes.
Book your spot on the booking calendar here:
https://www.autismconsulting.online/consultationsparent-trainingteletherapy.html
I will coach you to implement the sessions delivered at home, with the use of selected evidence-based practices.
The areas we will be working on are as follows:
​Pre-Academic Skills
Academic Skills
Adaptive Skills
Cognitive Skills
Executive Functioning
Language & Communication
AAC Communication
​Social Communication (early intervention and school -age intervention)
Social Emotional Skills
School Readiness
Play Skills
Motor Skills
Vocational Skills
Behaviours
​Self-Determination
Inclusion
Transition
You will receive weekly homework to do with your child and session plans with detailed and easy to do step-by-step guide on how to teach your child. You will see the improvement in your child's functioning.
I am a special edu teacher, ASD education & behaviour consultant, a social skills trainer and a parent to an asd child. I have over 25 years of teaching experience, incl 7 years in special education.
Please view more details here
https://www.autismconsulting.online/