A public talk with Stephanie Brown, PhD, Parental problem alcohol use: living and coping with a legacy of trauma.
About this event
A public talk with Stephanie Brown, PhD, author of Treating Adult Children of Alcoholics: A Developmental Perspective.
Followed by a panel discussion with the founders of the 'Silent Voices' initiative.
This talk is part of 'End The Silence' - a series of events in October 2021 raising awareness about the impact of alcohol use in children's lives.
#EndTheSilence
You can join the webinar directly by clicking the link below.
https://us02web.zoom.us/j/8571926826pwd=eFVHZXcvTGVocUFlUFhzQmRTa3NZQT09
Passcode: 692214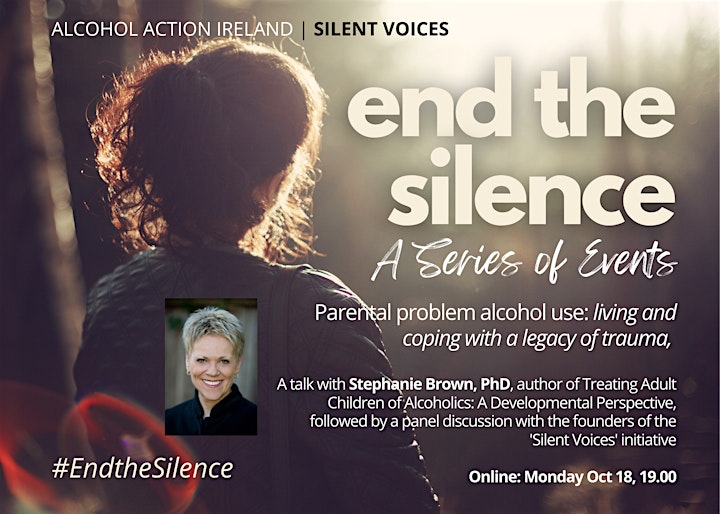 Stephanie Brown, Ph.D. is a clinician, author, teacher, researcher, and consultant in the field of addictions. As Founder and Director of The Stanford Alcohol Clinic from 1977 to 1987, she created a program within medicine for treatment, training and research of addiction and its impact on the family. She founded and directs The Addictions Institute in Menlo Park, California, an outpatient psychotherapy clinic built on her theories of addiction and recovery as a developmental process. As a Research Associate at the Mental Research Institute (MRI) in Palo Alto, she co-directed The Family Recovery Research Project during the 1990s. In today's world, she teaches and consults about society's addiction to technology and the impact of cultural addiction on treatment programs and people in recovery.
A licensed psychologist with over 40 years of clinical experience, Stephanie is an internationally recognized expert on the trauma and treatment of alcoholics, all addicts, and their families. A founding member of the National Association for Children of Alcoholics (now National Association for Children of Addiction), she is especially well known for her pioneering work in the theory and treatment of adult children of alcoholics and all addicts.
The author of 11 academic and popular books, plus two training videos (Jaylen Productions, 1997) and a video on family recovery (Hazelden, 2005), Stephanie lectures worldwide. Her most recent book, SPEED: Facing Our Addiction to Fast and Faster and Overcoming Our Fear of Slowing Down was published by Berkley Books (an imprint of Penguin) in Jan. 2014. A co-founder of the Grandmother Project, she continues her exploration of grandmothers' experience of a fast pace of life and technology on their grandchildren.
Panel Discussion
Stephanie's talk will be followed by a panel discussion with the co-founders of the Alcohol Action Ireland initiative, Silent Voices, Marion Rackard and Carol Fawsitt and a video contribution from Barbara Whelan.
Silent Voices' has been fostered by these three individuals who experienced parental alcohol misuse growing up. The emotional trauma of this experience is significant and, for many complex reasons, is a situation very few people feel able to speak about. The panel will explore some of these issues with Stephanie Brown.
https://alcoholireland.ie/silent-voices/who-we-are/
Organizer of Parental problem alcohol use: living and coping with a legacy of trauma.
Alcohol Action Ireland (AAI) is the national independent advocate working to reduce harm from alcohol.
We campaign for the burden of alcohol harm to be lifted from the individual, community and State, and have a strong track record in effective advocacy, campaigning and policy research.
Our work involves providing information on alcohol-related issues, creating awareness of alcohol-related harm and offering public policy solutions with the potential to reduce that harm, with an emphasis on the implementation of the Public Health (Alcohol) Act.