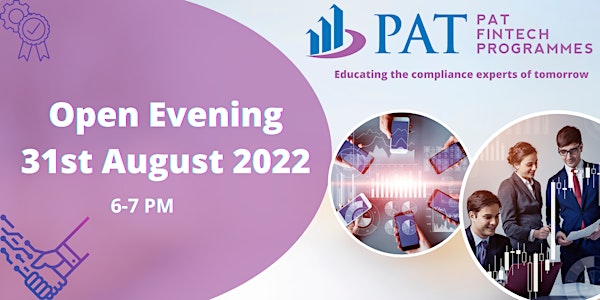 PAT Fintech Open Evening
Are you a Fintech enthusiast looking to take the next step in your career? We look forward to welcoming you to the PAT Fintech open evening.
About this event
PAT Fintech is dedicated to developing industry-led, career-focused courses in the evolving Fintech sector. We develop the knowledge, skills and competencies required for careers in Fintech Risk and Compliance through a process of continuous active industry engagement in the delivery of the courses.
Our Open Evening is a chance for you to find out more about PAT Fintech. At this event, you will get the chance to meet graduates and discuss their experience of the programme and how it has positively impacted their current jobs & career opportunities.
You can also interact with members of the faculty who will outline the uniquely interactive - real-world & industry-focused - style of the programme's delivery.